Many families need 2 incomes to pay their bills and live well. This can be a challenge for homeschooling families, especially with young children. There are ways that you can successfully work from home and homeschool.
MANY families out there are doing it successfully & you can too!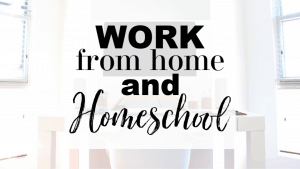 There are 2 types of work from home jobs:
Jobs with Flexible Hours
Jobs with Traditional Hours
These will require different approaches to managing your time as you work from home and homeschool.
Jobs with Flexible Hours
If you have a flexible job or run your own business and can set your own hours, then it's best to work around your kids' schedule.
Good times to get work done:
In the morning before the kids are awake
At nap time
In the evening after the kids go to bed
Those are the main times when homeschooling moms can get work done.
It's also important for kids to learn to entertain themselves and play independently. Building in an independent play time into your daily routine is a great idea, and gives you another designated time to get work done.
Some independent activities that kids can do on their own:
Playdough
Kinetic Sand
Kinetic Rock
Legos
Painting
Coloring
Reading
Looking at Books
Listening to audiobooks
Listening to podcasts
Playing with train tracks
Playing in a fenced yard
Action figures
Activity books
There are so many things that kids can play independently.
Another great time for moms to work is when kids are playing games on a tablet or watching TV. There's nothing wrong with letting kids enjoy technology. In fact, they can learn a lot while utilizing technology, and it keeps most kids fully engaged so you can get time to work.
I utilize all of these methods in order to get time to work. I wake up about an hour before my kids do, and I'm able to fit in about 1-2 hours of work during the day while they have independent play and tech time. Then I work for another 3 hours in the evening after they have gone to bed. I'm able to get everything done that I need to between my 2 businesses.
Traditional Hours
There are work from home jobs that require traditional work hours. This is more difficult to maintain with younger kids. You have to be able to care for them even during work hours.
How to manage traditional 9-5 Hours and homeschool:
Hiring a nanny or mother's helper during some or all work hours
Accomplish homeschooling during early morning or evening hours
Utilize online classes for kids
Hire another homeschool family to help you out
Dedication
Working from home and homeschooling takes excellent time management and dedication. It's not easy, but you CAN do it!
Was this helpful? Pin it & Share!