Raise your hand if you're a book hoarder. Yes, my hand is up too! Between books, art supplies, curriculum, and games, sometimes I feel like our house is being taken over by homeschooling! When we moved into our new house earlier this year, I knew I had to tackle this homeschool organization problem. These are the 3 steps I took to get an organized homeschool.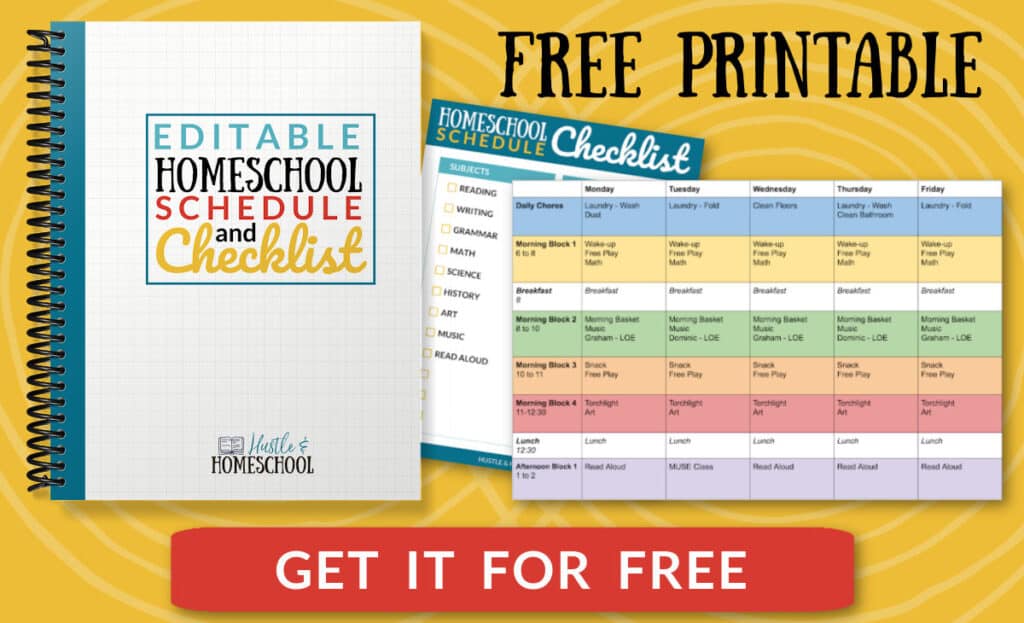 This post contains affiliate links. If you make a purchase after clicking a link, I will earn a commission. Disclosure policy
Step 1: Evaluate Your Stuff
Figure out what you have already and what else you plan on buying because you know you'll end up getting more books throughout the year! Get out all the school supplies, art supplies, books, curriculum, games, and whatever else you have and use in your homeschool!
Taking the time to sort it all now will help you when you with step 2!
Sort each category and then break them down into smaller groups of things that you want to store together. Count how many different groupings you have.
Step 2: Evaluate Your Space
Do you have a separate homeschool room or play room? Or will you store your supplies throughout the house?
How much shelf space do you have already? Is it enough or do you need more? Where do you want to store each category: school supplies, art supplies, books, games, etc? Where can you put more shelves if you need them?
I do not have a separate homeschool room. We live in a small house, but have managed to keep an organized homeschool and home! I use my space strategically to organize all of our homeschool supplies and books.
Step 3: Make an Organized Homeschool
To bring it all together you may need to buy a few things. These are the products I recommend for storage and shelving.
These cube shelves are my go-to for organizing our homeschool space! They are perfect for storing art supplies and puzzles when paired with these drawers.
They are also great for small to medium sized books. We keep most of our picture books & early readers on cube shelves. I love the small size of the cubes for keeping books organized too!
A nice tall book case will go a long way in keeping your homeschool organized! It will fit your large books, textbooks, and curriculum well.
It's also easy to keep all your resources for a specific grade or child together on 1 shelf!
In order to have an organized homeschool everything needs to have it's own place. I find that storage baskets or crates are great for small things like flash cards, storing unused visual schedule cards, and the daily calendar cards.
A crate also works really well as a morning basket!
These carts are so cute & very practical for easily moving your supplies from one room to another. You could also use them for storing all of your supplies for poetry teatime!
Personal Storage
I have been amazed at how well my kids take care of their stuff when it's stored in more of a special way. We got each of our kids their own pencil caddy to store their pencils, markers, colored pencils, glue, and scissors. They love them and so do I!
Binders or Folders
Throughout the year your kids will be creating lots of artwork, doing projects, and writing things. You need somewhere to put it all! You could do a 3 ring binder or a big folder. Remember – you don't need to keep everything, but it can be nice to keep some things.
Another great thing to have for storing projects or kids notebooks is magazine holders.
3 Steps to an Organized Homeschool
Evaluate Your Stuff
Evaluate Your Space
Make an Organized Homeschool
Once you have bought everything you need to organize your homeschool supplies, just get it all put away!
One of the keys to keeping your homeschool organized is to teach your kids where everything goes. Show them and tell them multiple times and eventually they'll know exactly where to find what they're looking for and put it back away when they're done!
Once you have your homeschool space organized, send me a picture or tag me on Insta @hustleandhomeschool
Read Next:
Pin it & Share!