Do you regularly run out of time for lessons? Have you struggled to transition from one subject to the next? Do your kids groan and complain about learning? Yes? Then you NEED a homeschool schedule.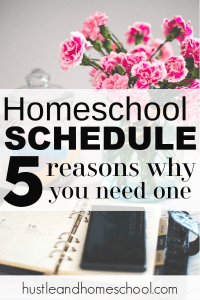 A Homeschool Schedule will get you out of the rut and bring a peaceful energy to your days.
For many people creating a homeschool schedule can seem like a daunting task, but it is worth it! Don't believe it?
5 Reasons Why You Need a Homeschool Schedule
1. Give Structure to Your Days
Creating a homeschool schedule doesn't have to be difficult. It also doesn't have to be strict. Your schedule should be personalized to your family. Think of the day in blocks, instead of specific hours. Take a look at our sample homeschool schedule below as an example. The column on the left shows the breakdown of the day in blocks. There aren't too many things listed in each block – this way we never have to rush through anything and we can be flexible, but we still have a set structure to our days.
Plus it's easy to change it up from season to season and year to year. If something isn't working for you, adjust your schedule!
Need help designing your homeschool schedule? Check out our post: 7 Simple Steps to Create a Personalized Homeschool Schedule.
2. Be Intentional
Everyone needs to be intentional and mindful of how they are using their time – yes, even the relaxed homeschoolers! Setting intentions for each day is a beneficial practice for kids to learn too. As they grow up it will help them pursue the things they are most passionate about and get in the habit of doing things they may not enjoy so much. Having a homeschool schedule will also help YOU pursue your dreams and take care of the mundane tasks (like washing dishes!)
I know for me, it's so easy to get distracted. Social media. Emails. TV. Running a business. Having a schedule in place keeps me on track and helps me keep my kids on track too – but without stress!
3. Meet Education Goals
If you have set expectations of what your kids should learn in a year, then you must have a schedule in place. The only way to meet those goals is to consistently work towards them week after week. Winging it just doesn't work well for most people.
4. Bring Peaceful Energy to Your Home
With a homeschool schedule in place, you will be more prepared to teach, and your kids will be more prepared to learn. Your kids will be more excited about learning and transition from one thing to the next more easily. YAY for no more (or at least less) complaining when it's time to move on to a new subject or activity! A homeschool schedule will also help kids learn to patiently anticipate special activities that only happen on a certain day each week.
5. Integrate Homeschooling with Life
Having a homeschool schedule shows kids that learning is a natural part of life! Let's raise kids who are eager and excited to learn and see it as an every day pursuit so that they will be life long learners.
A Life Changing Homeschool Schedule
Having a homeschool schedule in place will improve your life, teach kids valuable lessons, and help you reach your goals! You can't afford not to have one. Keep reading our related posts to learn how to make a homeschool schedule that will work for you!
Related Posts:
Simple Kindergarten Homeschool Schedule
Visual Homeschool Schedule | Plus FREE Printable
7 Simple Steps to Create a Personalized Homeschool Schedule