You've spent the time creating a homeschool schedule that works for your family. Now, how do you communicate that schedule to your kids? A visual homeschool schedule is the best way to show your kids what to expect when!
The visual homeschool schedule is especially beneficial for kids who aren't reading yet or are new readers. The pictures on each card act as a visual cue for what subject or activity you will be doing.
I've created a free homeschool schedule printable to make this easy for you! All you have to do is download it, print it out, then cut it out. For extra durability I recommend printing on card-stock and laminating it.
This free visual homeschool schedule includes 48 cards with popular homeschool activities. They also have a simple, clean design so that they look good in your home and aren't distracting.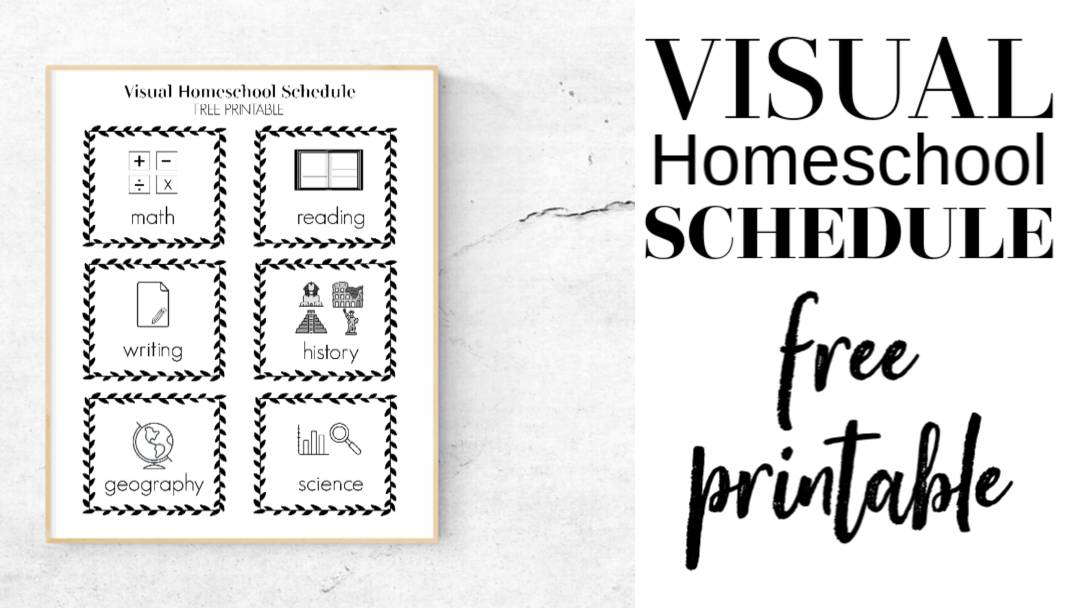 How will a visual homeschool schedule help you?
You will be more prepared for the day ahead.
You & your kids will know what to do & when.
Your kids will transition from one activity to the next more easily.
Kids will begin to understand that they need to complete one thing before moving to the next.
Teaches responsibility and planning.
Self-Esteem boost for accomplishing the activities.
Fosters independence.
Be Prepared for the Day Ahead
The simple task of changing the cards each day will help you mentally prepare for all of the things you'll be doing and teaching. This mental preparation is important for you and the first step to staying organized and ready for the day.
Know What to Do & When to Do It
You'll finally be able to stay on schedule! The visual cues will help both you and your kids to accomplish everything you intend to each day.
Easier Transitions
With most kids, you will see that having the visual homeschool schedule helps them transition from one activity to the next more easily. They will see that you had planned for this all along. They will find trust in following the routine and feel more at ease.
Completion
Your kids will learn a valuable skill – completing one task before moving on to the next. This seems simple, but it will serve them as they get older and more independent.
Teaches Responsibility and Planning
Your kids will learn to manage their time and stay organized. This will help them be more responsible in all areas of life and as they get older. The modeling you show by planning ahead will show them how to do that and as they grow up they will develop this skill too!
Boosts Self-Esteem
They will get a sense of accomplishment from completing all of activities on the schedule each day! It helps kids realize that they are capable.
Fosters Independence
The visual homeschool schedule is perfect for encouraging independence in your kids. They can finish one task and look at the schedule to see what they need to do next. As they get older, you can have them help make the schedule and give them more independence in their schooling.
A Must Have
A visual homeschool schedule is a must have for preschool through first grade, but all kids would benefit from having one!
When I put up our visual schedule for the first time, my kids got so excited! They loved being able to see what we would be doing throughout the day. It really helps us stay on task and get everything accomplished throughout the day.
Where to Display
Choose a place for your visual homeschool schedule. You could put it with your command center and include a monthly calendar and responsibility chart. Or you might put your visual schedule in your homeschooling space or room. Pick a prominent place that you & your kids see regularly throughout the day. You don't want it to be hidden!
Another consideration is the height. You need to be sure that your kids can see the visual homeschool schedule well, so don't put it too high up!
We decided to put our visual homeschool schedule in our living room. This works really well for us because it's in a central location.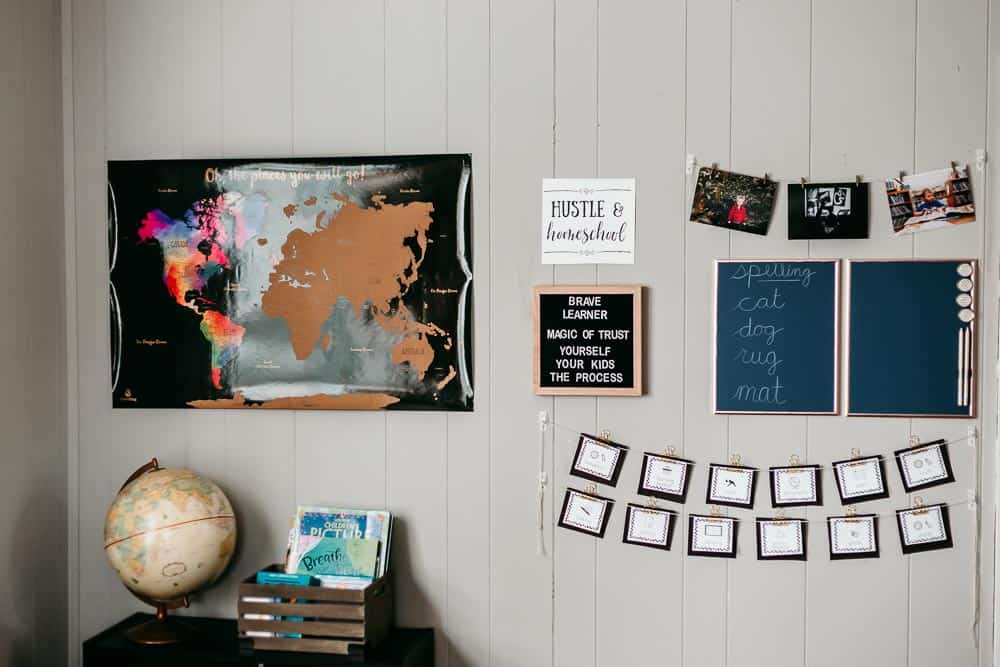 Go ahead and grab your free visual homeschool schedule printable and get your command center set up! Your days will be running more smoothly in no time & you'll wonder why you didn't do this sooner. (I would know because that's exactly how I felt!)
Love this free printable? Pin it & Share!