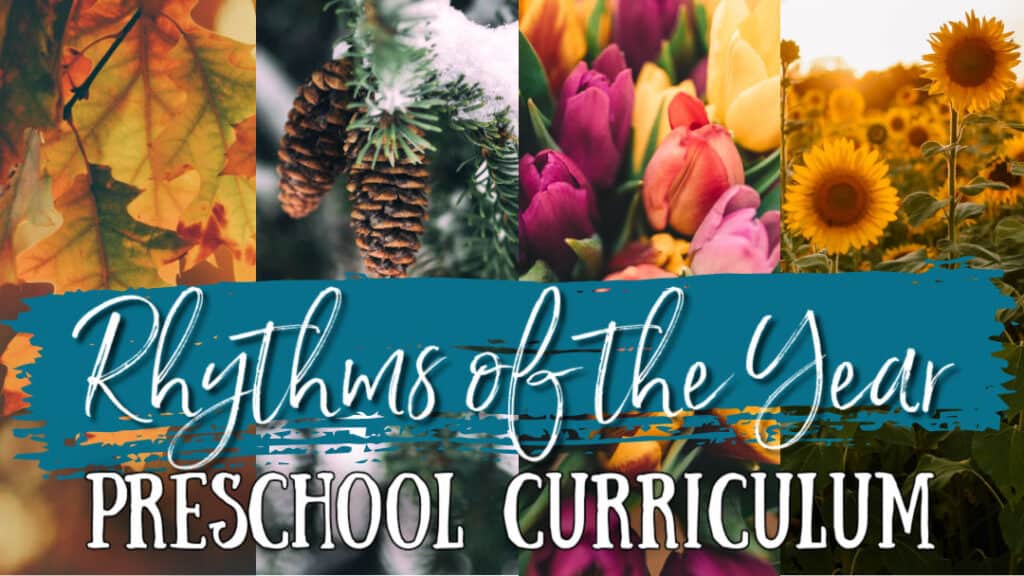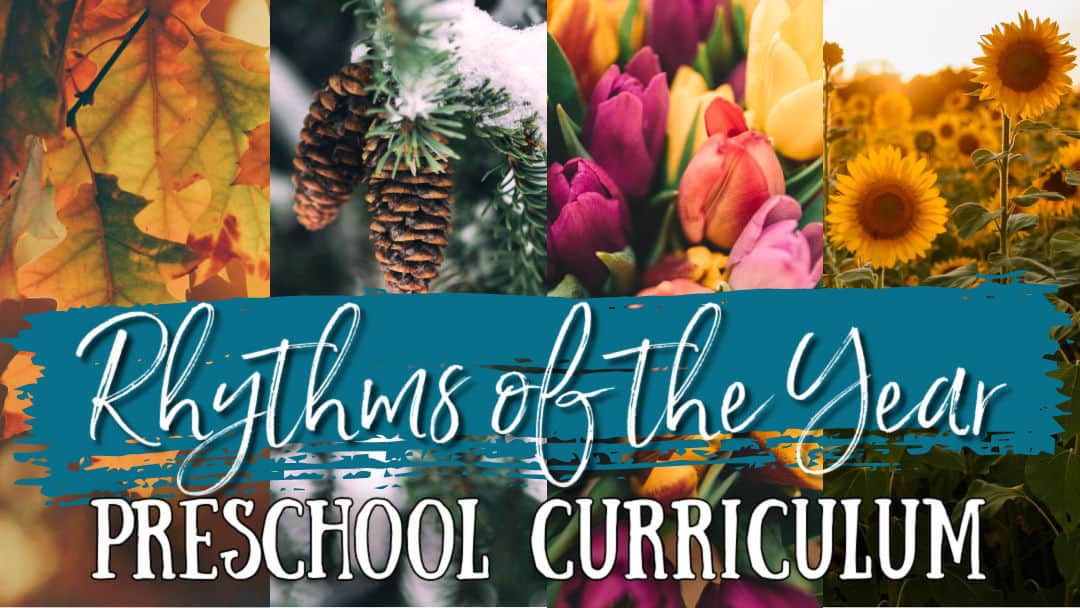 Seasonal Preschool Curriculum for ages 3 to 5
Rhythms of the Year is a seasonal preschool curriculum that consists of 4 twelve week unit studies: Autumn, Winter, Spring, and Summer. It is completely secular.
Each week of the unit study is built around a theme with a book and activities.
This is a light and playful introduction to structured learning for ages 3 to 5. You won't be sitting at a table all day or doing busy work with your preschooler. Instead, you will be tuning into the natural Rhythms of the Year and enjoying guided learning time with your child.


Each Rhythms of the Year Preschool Curriculum Unit Includes:
Weekly Book – the week's theme is built around this
Circle Time Materials
Action Verse – simple poems written by us with actions and movements incorporated
Art & Craft Projects – fun and simple projects perfect for 3 to 5 year olds
Hands-On Activities – play based STEM activities
Cooking – a weekly recipe
Poetry – a weekly poem that you can use for poetry teatime
Nature Study – use the included Seasonal Observations Journal
Field Trip suggestions
Optional related books you can check out from the library
Each Unit has a 25+ page activity pack
Rhythms of the Year Preschool Curriculum Units
Spring Unit Study – Coming Soon
Summer Unit Study – Coming Soon
---
Free Sample of Rhythms of the Year
Choosing a curriculum can be so challenging! I want you to be confident in your decision, so you can get a free sample of Rhythms of the Year Preschool Curriculum. You'll get 1 full week with accompanying activities! Just enter your information below to get your free sample!
---
This post contains affiliate links. If you make a purchase after clicking a link, I will earn a commission. Disclosure policy
Books Required for Rhythms of the Year Curriculum
Each week there is a required book to go along with the week's theme. Plus you'll need a poetry book for the whole year. You can find almost all of the books on this Bookshop List here. Bookshop is a great place to buy books because they also support local bookstores!
Below you'll find Amazon links for all of the books too. Of course you can also buy books used or check them out from your library!
Spine Books Used in All Unit Studies
Autumn Unit Study Weekly Book List
Winter Unit Study Weekly Book List
Rhythms of the Year Preschool Curriculum
This is a playful, gentle introduction to homeschooling for both child and parent. This will give you the guidance you need to develop a family rhythm that includes structured learning time.
Buy Rhythms of the Year to get in tune with nature, have fun teaching your preschooler, and start your child's homeschooling journey in a nurturing, positive way!
More about homeschooling preschool:
Seasonal Unit Study Preschool Curriculum