2nd Grade Secular Homeschool Curriculum
Choosing curriculum can be both one of the most fun and most difficult parts of homeschooling. It can take some time to find the curriculum that works best for you and your kids – I know we've definitely experienced that with some things. In this post I'll go through the second grade curriculum we are using and enjoying.
We take an academic approach to homeschooling, while keeping it engaging and fun. Our curriculum choices reflect this goal.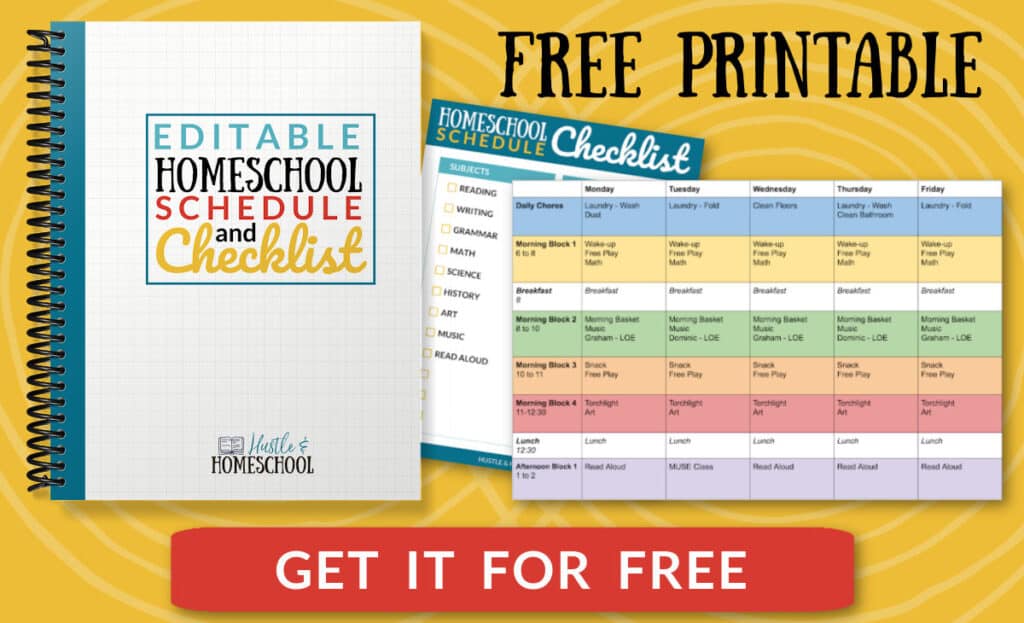 This post contains affiliate links. If you make a purchase after clicking a link, I will earn a commission. Disclosure policy
Subjects to Teach in Second Grade
You'll want to consult your state website to see which, if any, subjects are required for second grade. These are the subjects we do in second grade:
Language Arts

Handwriting
Writing
Read Alouds

Math
History
Science
Art
Music
PE
Second Grade Language Arts Curriculum
I put a huge emphasis on teaching language arts in the early years. It's so important to set a good foundation in reading and spelling early on. That's why we use Logic of English.
Language arts curriculum for second grade depends on the pace you had in the previous years. My oldest son is doing Logic of English Foundations D in second grade. You can read my full review of Logic of English Foundations here.
If you have completed Logic of English Foundations already or are ready for a new language arts curriculum after teaching your kids to read, I recommend Logic of English Essentials.
If you haven't done Logic of English Foundations, you can jump right into Logic of English Essentials in second grade!
They also have an online version of the curriculum available now! You can check out Logic of English eLearning here.
I love this curriculum because it teaches phonics, reading, spelling, and grammar. Foundations also includes handwriting.
Handwriting Curriculum for Second Grade
If you want to teach cursive handwriting in second grade, then I would definitely recommend getting the Logic of English Rhythm of Handwriting curriculum!
Second Grade Writing Curriculum
The one thing that Logic of English doesn't include is writing. I think second grade is a good time to start introducing writing concepts, though if your kids aren't reading well yet I would focus more effort there.
We use methods from The Writing Revolution to teach writing across the curriculum. I also sell the writing workbooks and novel studies I make at LitHouse Learning.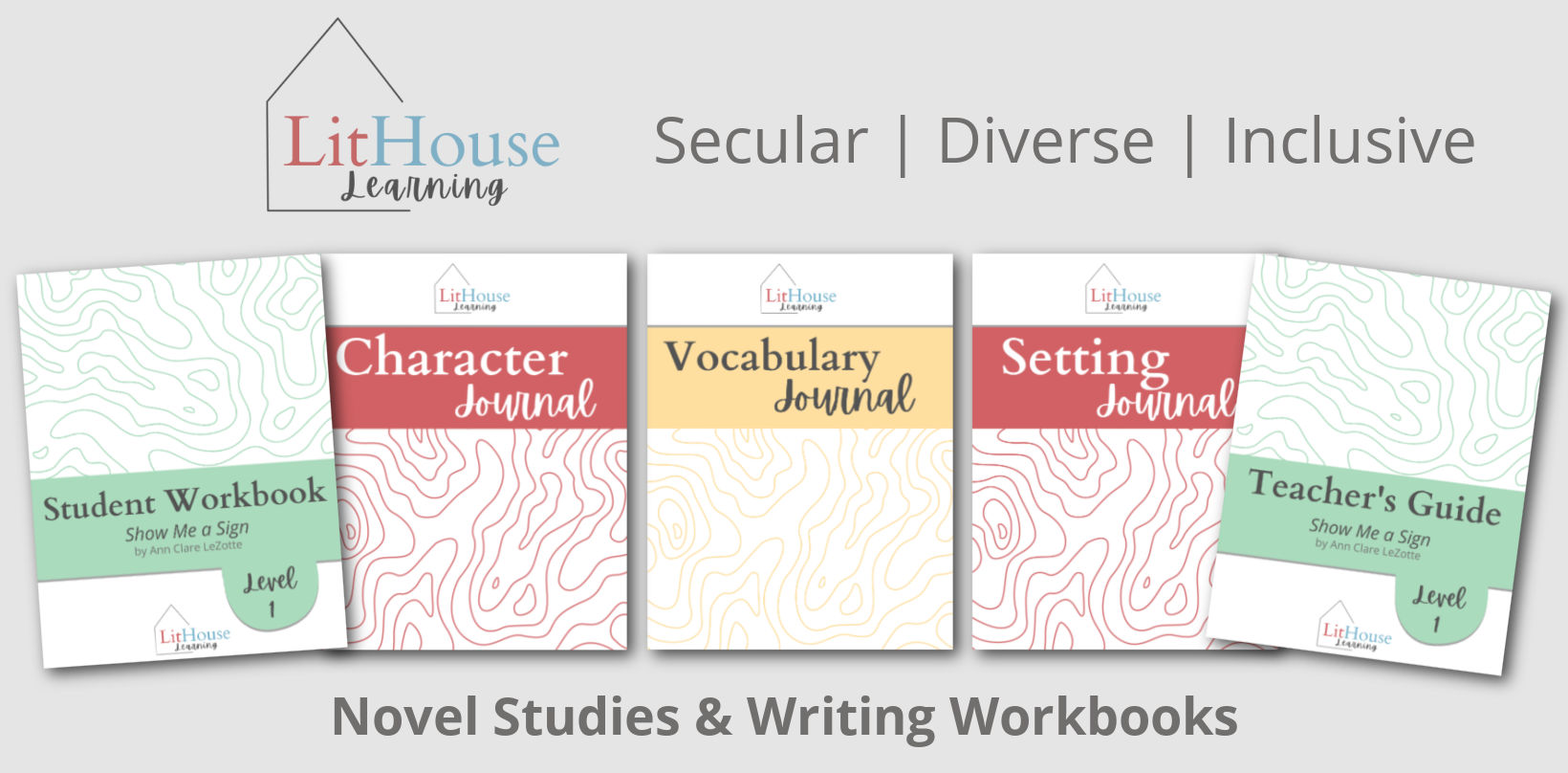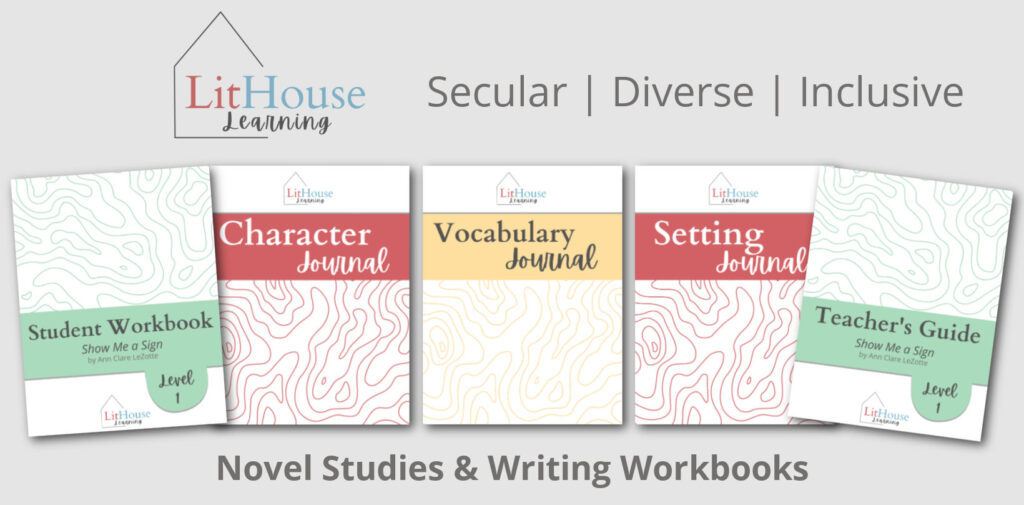 2nd Grade Literature Study
We use Level 1 Novel Studies from LitHouse Learning for 2nd grade literature. These incorporate sentence-level writing activities, vocabulary study, age appropriate literary analysis, and discussion questions. We read the books together, usually taking turns reading aloud while we snuggle on the couch.
We also use Exploring the World Through Story Level C for world literature in 2nd grade.
2nd Grade Independent Reading
In 2nd grade, kids should start to develop a habit of independent reading. I require my kids to read for 30 minutes per day. We also set a yearly goal for how many books they want to read. At this age my kids are usually reading picture books, graphic novels, and short chapter books, so we usually set a goal of 100 books in a year. That might seem like a lot, but my kids have had no trouble reaching this goal. Help your kids set a goal that works for them!
Some favorite books my kids read in 2nd grade:
I definitely recommend getting a good e-reader or tablet. It can make it much easier to get books either from Amazon or check them out from the library. I love my Kindle Paperwhite and they have a kids version too! For a tablet an iPad is always great with the Kindle App (and others), but we've also liked the kids Kindle Fires.
But if you prefer physical books that's totally ok! I just find ebooks easier for us.
Check out these tips for using your local library!
---
---
Second Grade Math Curriculum
For 2nd grade math, I would suggest one of two options. Second Grade Math With Confidence is a great option. I also think second grade is a great time to start outsourcing math if you don't want to teach it. If that is the case, then I recommend using Beast Academy. And you will probably want to have your kids start at Level 1 in second grade.
For extra practice (and because they just really like it my kids play Prodigy.
Second Grade History Curriculum
My kids LOVE history. It might be their favorite subject, so we use a lot for history. Our base second grade history curriculum is Curiosity Chronicles Medieval History. We use the main book, teacher manual, and the lap books from Curiosity Chronicles. Then we also add the LitHouse Learning CC Medieval History Writing Workbook.
We also use the Usborne Encyclopedia of World History. We use this book throughout elementary school. It's an excellent source and I love that it has internet links to related content!
Then we use History Quest Middle Times and match up chapters that correspond with the chapters in Curiosity Chronicles.
We really enjoy the way these history curricula work together to give different perspectives and ways to learn about history.
Second Grade Science Curriculum
The second grade science curriculum we'll be using is REAL Science Odyssey from Pandia Press. We'll be doing Earth & Environment plus Astronomy.
I love that this curriculum is basically open and go and easy to use! It includes labs for hands-on learning too.
Second Grade Art
We love the Studio Sprout Online Art lessons for elementary art education. They are fun and include STEAM concepts, social-emotional learning, earth stewardship, and social justice.
We also enjoy using lessons from the Art History Kids curriculum. I love that it makes it easy for me to teach art history and it includes great art projects for us to do!
Second Grade Music Curriculum
We've been using Prodigies Music for a couple years now and really like it! It's fun and is the perfect music curriculum for preschool and elementary grades. We have boomwhackers and the desk bells app that the kids play with it.
If your kids are interested in learning piano, I highly recommend Hoffman Academy! One of my kids has been doing the program and loves it.
Second Grade PE
We keep PE simple by doing Cosmic Kids Yoga, playing outside, playing games, going on hikes, and taking trips to the park.
Conclusion: Second Grade Homeschool Curriculum
So those are our personal choices for second grade curriculum. Some of these might be perfect for your family too or in some places you might choose something different. That's ok! You have to find the things that work for you, and always remember that you can change things up at any time.
Secular 1st Grade Homeschool Curriculum
Secular 3rd Grade Homeschool Curriculum
Pin it & Share!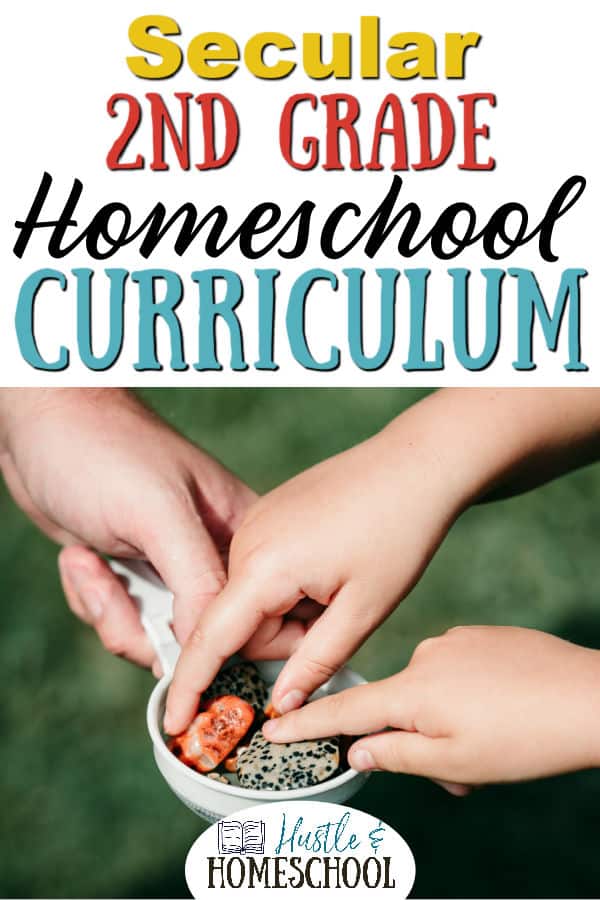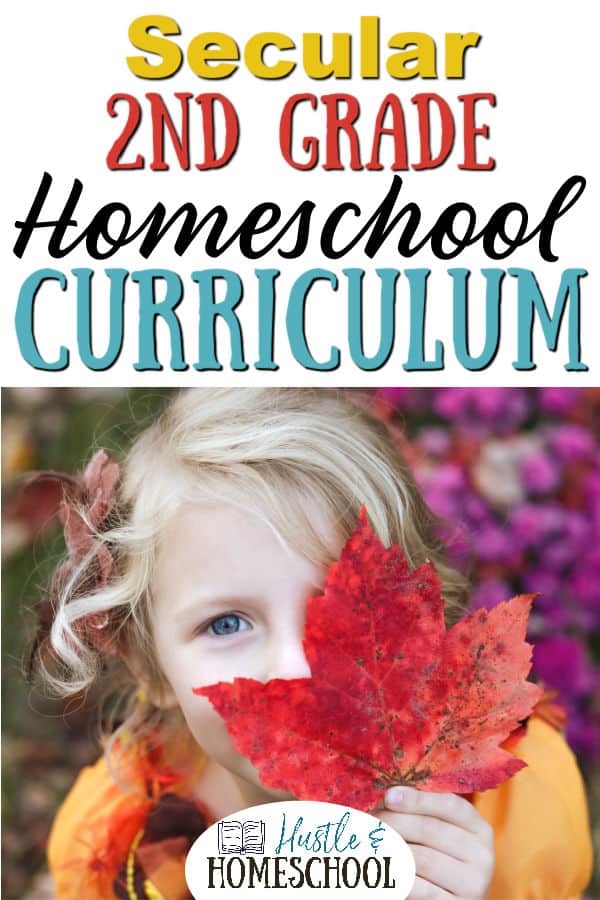 Now you know our choices and recommendations for secular second grade homeschool curriculum!