Balancing Homeschooling and Caring for Babies & Toddlers
Two words that typically go hand-in-hand are homeschooling and balance; however, when you throw caring for babies and toddlers into the mix, you've just entered another realm. Truth be told, most homeschooling moms chuckle at the thought of having reached a perfect balance between it all, but it doesn't mean we don't strive for it.
When you have the mix of homeschooling multiples who vary across different ages, I'm here to tell you that you can undoubtedly successfully homeschool them all. To help you put some action behind these words, consider trying some (or ALL) of these tips.
This post contains affiliate links. If you make a purchase after clicking a link, I will earn a commission. Disclosure policy
1. Create separate areas for your babies and toddlers.
Yes, the new crawler will always make his or way to the feet and legs of the older ones sitting at the table. The new walker will master pulling everything off the table in record time. So what should you do to keep everyone from getting frustrated? Create baby or toddler proof areas.
I've seen some creative spaces, but the easiest one to put together involves a pack-n-play, baby gate, and/or laundry basket. Regardless of what you choose, place a few of the baby's favorite items in the space and be prepared with a back up toy or two to switch out. Make these spaces a big deal and all about them to help give them a sense of excitement and ownership.
2. Utilize Nap Time for Homeschooling
I know, you've been hearing this tip since you first had a baby. Sleep when the baby sleeps! Well, now it's homeschool while the baby sleeps.
Nap times are some of the best times to homeschool your older kiddos without the interruptions of the demanding littles. With consistency, you'll be able to use this time to your utmost productive advantage. Utilize this time to work one-on-one with your older children and even squeeze in a little alone time for yourself.
3. Get All Your Kids Involved
This tip works wonders if you have 3+ children. Create a circuit type routine where each sibling spends a few minutes with the other doing something the younger sibling likes. Then you can work one-on-one or in a small group with your other kids.
For example, when your older is paired with the baby, have the older one read a touchy-feely book, or play with a semi-noisy toy for a few minutes.
For older kids paired with slightly younger siblings, consider giving blocks, play-doh, or some other hands-on activity as an option. The idea is to not only foster sibling relationships but to also create little spurts of learning moments in a structured, yet relaxed way.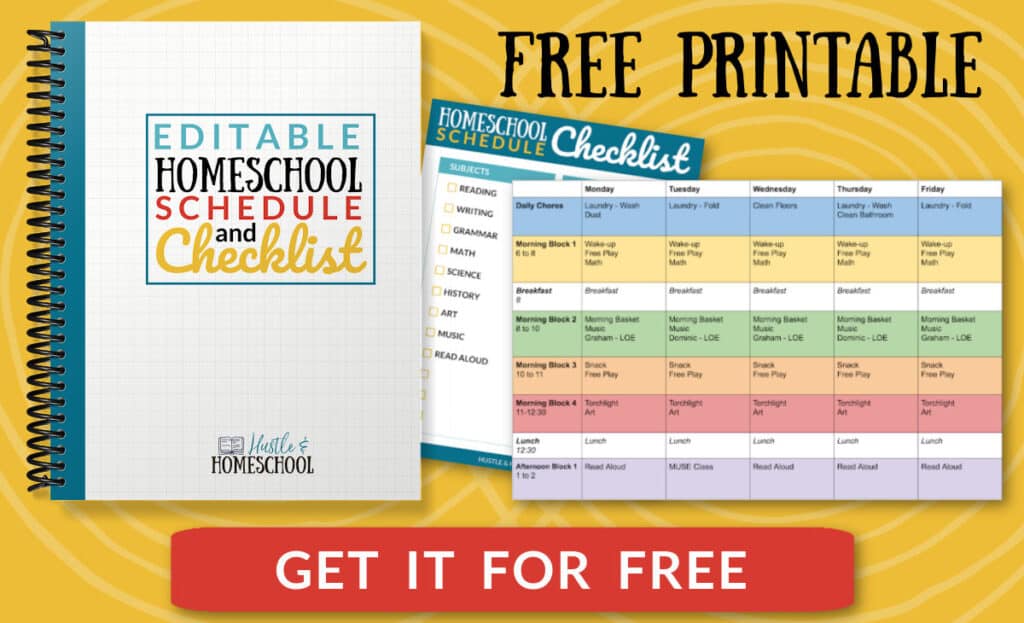 4. Keep Little Hands Busy
Often little ones just want to be right with you and feel involved in what you are doing. Let them sit at the table and play quietly while you are homeschooling your other children.
Some favorite activities for toddlers:
5. Incorporate Electronics
I'm not suggesting turning on the TV and sticking your babies and toddlers in front of it for hours upon hours of television programming, but no judgement if that works for you. On the other hand, I am suggesting using a few toys, such as a Kids Kindle Fire, Leap Frog or other educational games. These can be used to help develop independent learning skills while fostering a love for learning.
Our Favorite Kindle Fire Apps for Toddlers:
PBS Kids Video
PBS Kids Games
Toca Nature
LeapFrog Academy
Prodigies Bells
TallyTots Counting
Toca Blocks
Toca Builders
Endless Alphabet
LEGO Duplo
Download Amazon Prime Shows for Toddlers:
TumbleLeaf
Creative Galaxy
Give a Mouse a Cookie
Clifford
This also works the reverse way too! Provide your older kids with educational electronics while you tend to the younger ones. Download a few educational apps and shows they can watch.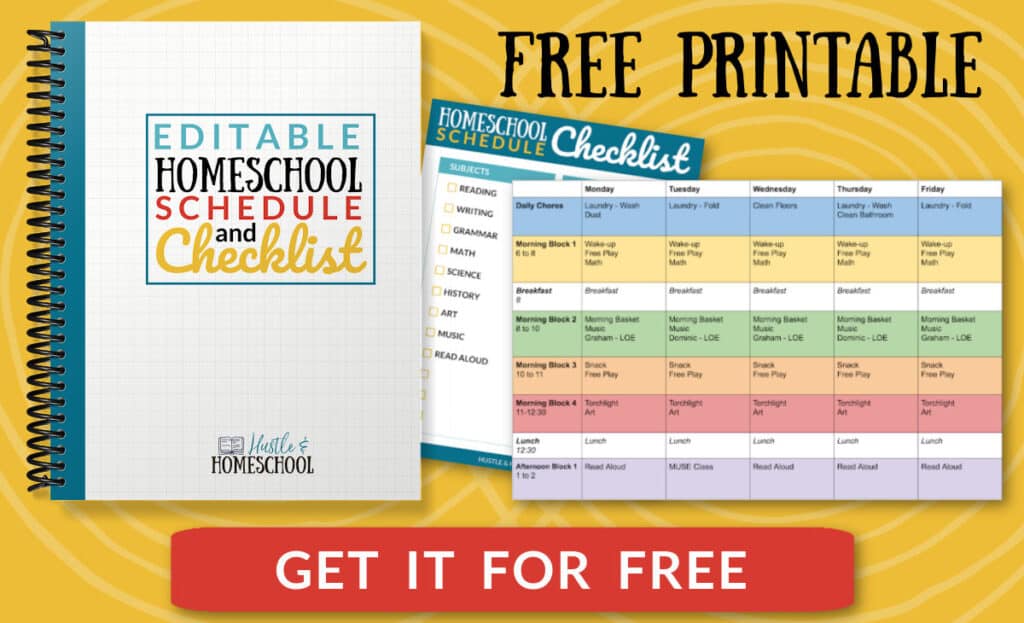 6. Consider Together Schooling
Sometimes the best balance happens when everyone is doing it at the same time. Over the years this has become known as together schooling, circle time, or even morning basket time. Branching primarily from the Charlotte Mason method, the idea is to bring everyone together for learning at the same time.
It typically consists of doing as many subjects as you can as a family and saving the other subjects for independent learning or nap times. Many homeschooling moms find this way to offer the most balance, especially when it becomes a part of their daily routine.
Homeschooling while Taking Care of Babies and Toddlers
I won't sugar coat it and tell you that homeschooling older and younger children isn't a challenge, because it can certainly be. But at the end of the day, it is only for a season and totally rewarding. Utilize some of these strategies to find balance while homeschooling and caring for babies and toddlers.
Do you have other advice for homeschooling parents who are juggling caring for babies and toddlers? Let me know in the comments below!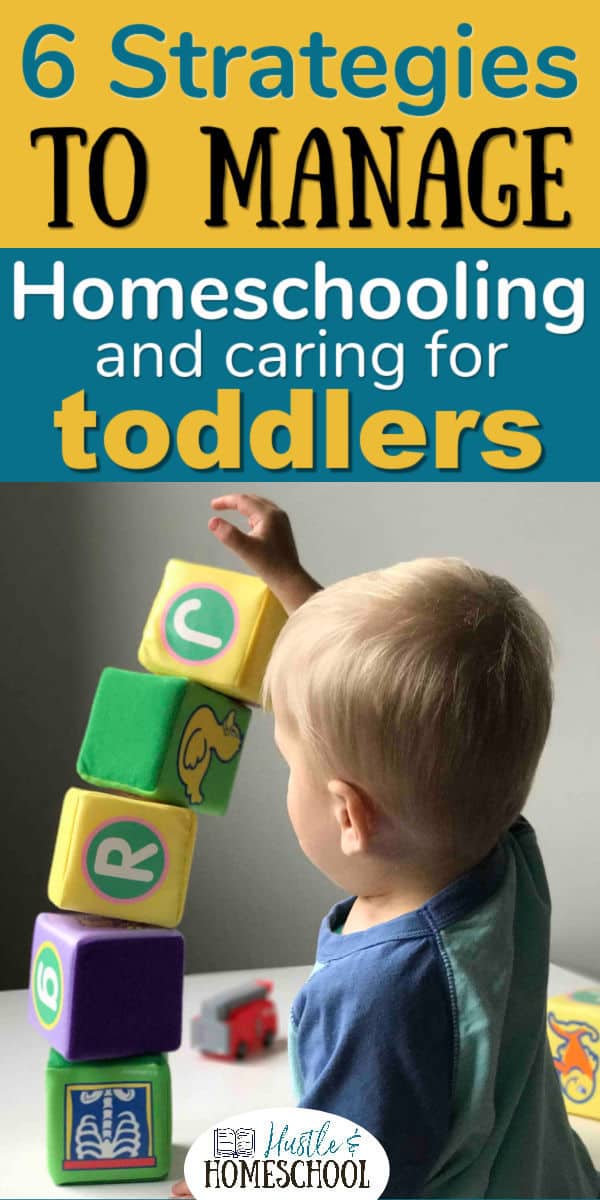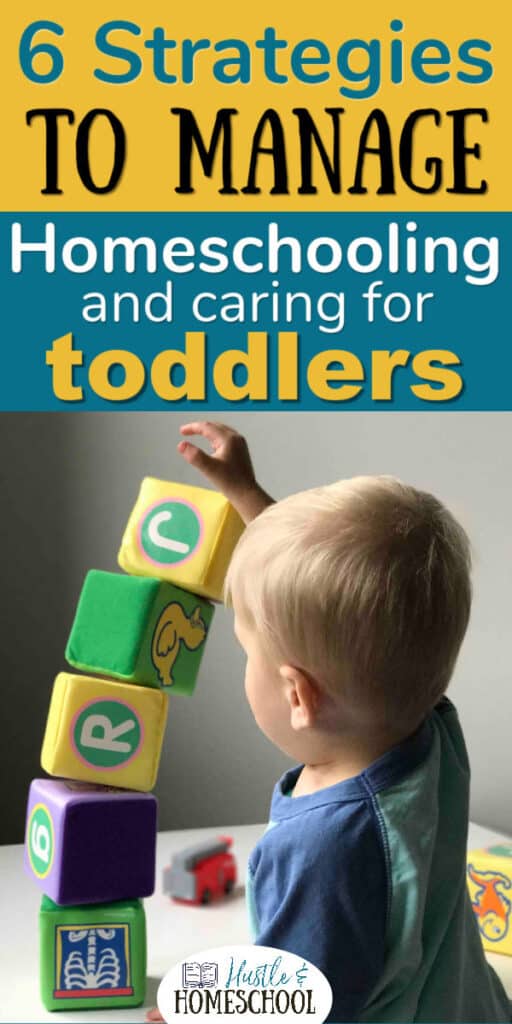 Strategies to Manage Homeschooling and Caring for Babies and Toddlers