The demands of motherhood are challenging, but add running a business on top of them and it can be completely overwhelming. With a to-do list a mile long, you may often feel like there just aren't enough hours in the day. Finding balance as a work at home mom can seem like an impossible task.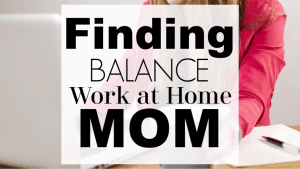 You can find harmony between your work like and your personal life. You just have to make a plan and commit to following it.
Did you groan when you read that? Do you HATE making plans? Get over it & just try it. It can really change your life!
Make a Family Schedule
It's important to have a schedule in place for your family and homeschool.
I suggest making a weekly schedule in a special way. It's very beneficial to look at a full week at a time. That way you can anticipate what is coming up.
Write down the things that you must get done each week for your household. Things like laundry, cleaning, yard work, grocery shopping and cooking meals.
Add school or homeschooling, extracurricular activities, classes and other regularly scheduled outings.
Now plug all of that data into your weekly calendar, but instead of going hour by hour, do it in chunks or blocks.
You could break your day up into 10 blocks:
Morning Block 1
Breakfast
Morning Block 2
Morning Block 3
Lunch
Afternoon Block 1
Afternoon Block 2
Dinner
Evening Block
Night Block
The way you choose to break up your day into blocks could be different. You might just have 6 blocks. Find what works for you.
You would have tasks that you need to accomplish during each time block. This works well for families because it allows for flexibility.
Related: 7 Steps to Create a Personalized Homeschool Schedule
Make a Meal Plan
This can be as simple or as complex as you want to make it.
We have 2 weeks of meals planned, and we only shop once every 2 weeks. I'm able to quickly take stock of what I need to buy since we have the same meals with slight variations every 2 weeks.
You can make a new meal plan every week or have a rotating meal plan like us. Whatever works for you and your family.
Make a Work Schedule
Now you need to analyze your work habits. When are you working now? How many hours do you need to work? Do you have available blocks on your weekly calendar that you can use for work? If not can you add any?
Personally, I do most of my work during the first morning block and the night block. I can get a solid 4 hours per day, just during those 2 times. My first morning block gives me about 1 hour  before everyone else is awake. I also usually get about an hour in the afternoon when the kids all get some screen time. Then at night my husband puts our kids to bed and I'm able to work for about 3 hours.
[mailmunch-form id="742923″]
Productivity
If you're struggling with finding balance as a work at home mom, your main issue may be productivity.
How much time do you spend watching Netflix? Scrolling on Facebook? Reading how-to's or watching YouTube videos? Do you get lost on Pinterest or spend too much time on Instagram?
Because we use all of these things for our businesses, sometimes we might convince ourselves that we're "working" when we're really just wasting time. All of those things are fine to do occasionally, but if you're struggling to find time for everything then you need to step away from the time wasters.
Batch Create
Instead of doing a little bit of everything when you work, you will be much more productive if you batch create. Focus on doing one thing for however much time you have, whether it's 1 hour or 3 hours. While longer blocks of time are best for batching, you might find that you like to do mini-batches once a week or longer batching sessions once a month.
Batch Creating allows you to get into the zone of what you are doing. You get into a flow state where things start coming more easily, and you are able to accomplish things more quickly.
For me, this means that I focus on 1 thing per day during my best times which are first thing in the morning and at night – the times when my kids are asleep and I can really concentrate.
These are some of my business related tasks that I batch and focus on doing one day per week:
Writing & Schedule Blog Posts
Filming Videos
Editing Videos
Take & Edit Photos
Create Graphics for Posts
Work on New Opt-In or Product
Write & Schedule Emails
These are tasks I do once a month:
Schedule Social Media Posts
Miscellaneous Admin Tasks

Expense & Income Report
Analytics Report for Blog
Analytics Report for Social Media
Definitely give batching a try to see if it will work well for you. One of the key things is to get rid of any distractions so that you can focus and be really productive.
Finding Balance as a Work at Home Mom
Implementing a well thought-out routine encompassing your family life and work life, meal planning, and batch creating for your business will help you create a much more balanced lifestyle. You will be much more productive and focussed if you know exactly what you should be doing and when you should be doing it.
Set up a routine and try it out. You might find that you need to adjust some things. Getting up earlier and adding a block then could be helpful. Are you committed to doing too many activities? It's ok to adjust! You'll probably find that you need to adjust the routine once a year or every 6 months, or seasonally.
Putting in the effort to plan a routine will be worth it. Finding balance and freedom from stress will benefit you and your family.
Was this helpful? Pin it & Share Please!