The final year of elementary school brings with it more rigorous academics and kids are a little more mature. Now is the time to start expecting more independent work from your kids! I look for well-rounded curricula that is academically robust, interesting, and easy to use. Below you will find all of the secular 5th grade homeschool curriculum I chose for my own kids and recommend to others.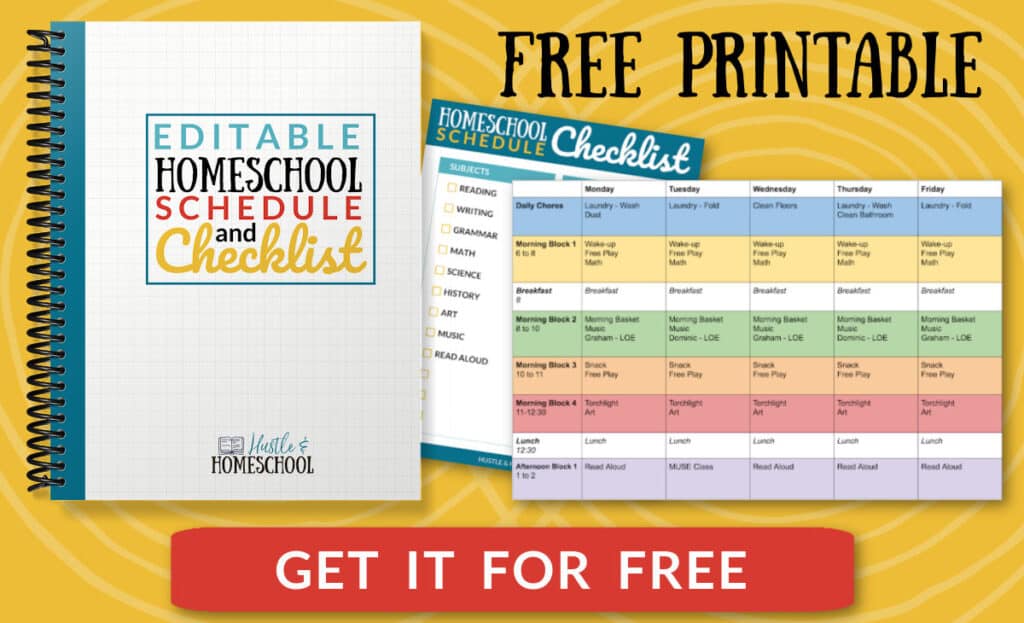 This post contains affiliate links. If you make a purchase after clicking a link, I will earn a commission. Disclosure policy
Subjects to Teach in 5th Grade
What subjects should you teach in fifth grade? In fifth grade, you'll continue most subjects from previous years. I do recommend teaching kids to type if you haven't yet. And you'll find that the way you teach certain subjects might change a bit in 5th grade.
These are the subjects that most 5th graders need:
Language Arts

Reading / Literature
Writing
Grammar
Spelling

Typing
Math
History
Science
Art
Music
PE
5th Grade Language Arts Curriculum
It's so important to further develop spelling and grammar skills in fifth grade. Kids need a good foundation in these areas to excel in writing. I highly recommend Logic of English Essentials for kids 8 and up.
Logic of English Essentials has 3 levels in each book. There is a placement test so you can know if you need to start in level A, B, or C. You will complete lessons 1-30 in 1 level, then move to the next level and complete lessons 1-30 again. I recommend splitting 1 level over the course of 2 years, but some people prefer completing 1 level per year. Usually you will do Level C in 5th grade.
So when you purchase Essentials, you're actually getting 2-6 years of Language Arts curriculum, depending on pacing and what level your child tests into.
If your child is struggling with reading, then I highly recommend getting the Logic of English Struggling Reader Bundle. It has everything you'll need to teach your child effectively.
If your child is a proficient reader, then you can get the regular Logic of English Essentials set.
It's important to make this curriculum work for you! It's so good, but can be intense, which is why I recommend taking it slow. You don't need to rush through it.
5th Grade Homeschool Writing Curriculum
Fifth grade is a good time to dig into longer and more thought provoking writing assignments. In 5th grade, students should regularly practice writing paragraphs.
Logic of English Essentials does not include composition, though it does include thorough grammar instruction, so we add in additional writing embedded in the other subjects using methods from The Writing Revolution.
I created LitHouse Learning to sell the writing workbooks I use with my own kids! Right now there are history writing workbooks and novel studies.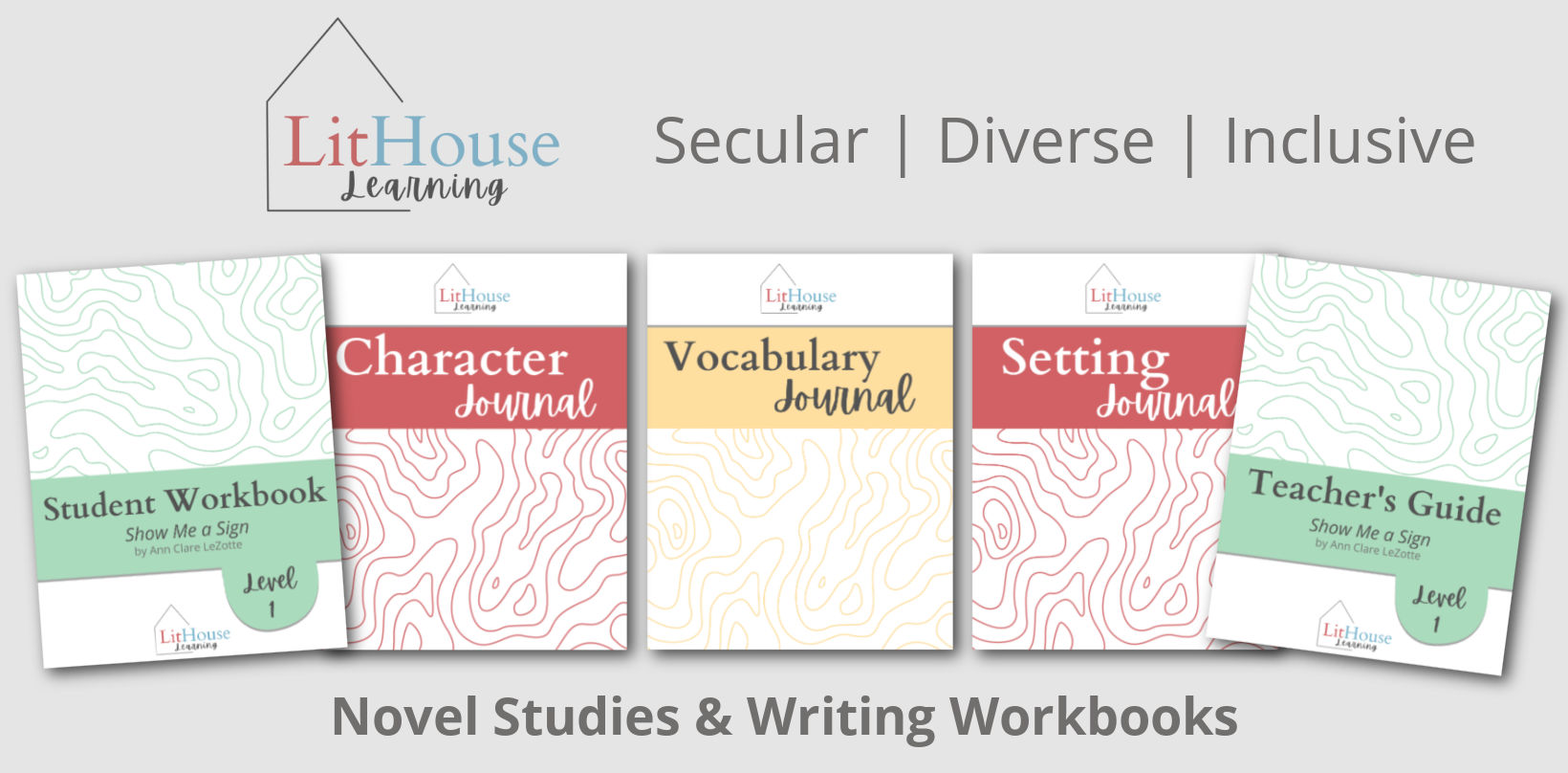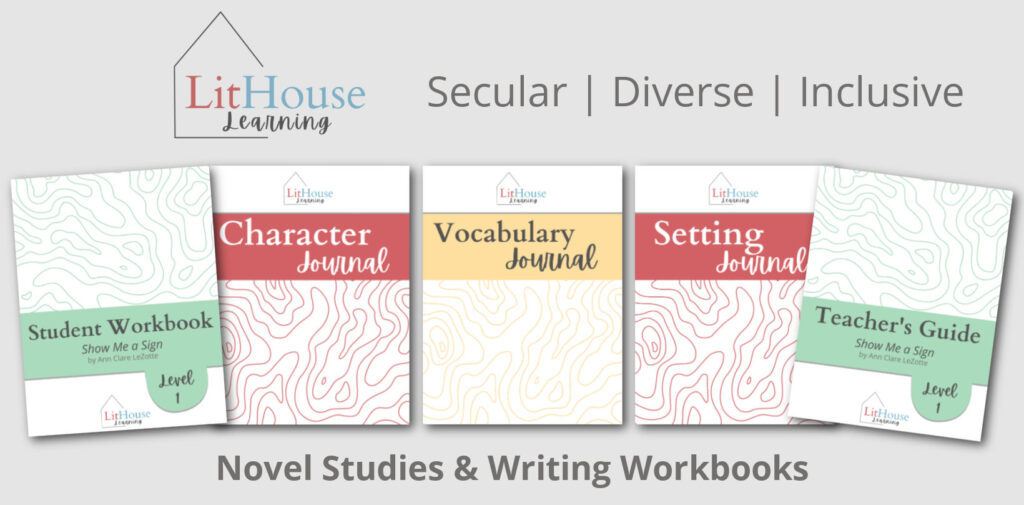 5th Grade Literature Curriculum
We use Level 2 Novel Studies from LitHouse Learning in 5th grade. We do one novel study per month and read the books together, often taking turns reading aloud while we snuggle up on the couch. These include discussion questions, paragraph-level writing assignments, vocabulary study, and age appropriate literary analysis.
5th Grade Independent Reading
It's important for kids to read every day. Every year we do a reading challenge for our kids to read 100 books. It's very motivating for my kids. At this age they are reading chapter books and graphic novels mostly. I don't require them to read anything specific. Set a goal that works for your kids! 100 might be too many for them. You can do 25 or 50 instead.
Since we want our kids to enjoy reading, it's important that they get to choose the books they will read independently. I suggest a weekly trip to the library to let them pick chapter books or graphic novels to read. It can also be a good idea to get the Libby app to access ebooks.
My kids really enjoy reading fantasy books, and that's what they tend to choose. I just ask them to read for at least 30 minutes every day. They often read more than that, though. We also keep track of the books they read with this Book Review Journal and on Storygraph.
See my tips for using your local library here!
5th Grade Math Curriculum
We use Beast Academy Math online for 2nd to 6th grade math curriculum. I don't enjoy teaching math beyond 2nd grade, so outsourcing this was important for me. My kids enjoy Beast Academy. It's challenging, but it also gives them a thorough understanding of math.
5th Grade History Curriculum
For fifth grade history we'll be using Curiosity Chronicles Modern History. We get the full bundle with the instructor's guide and student workbook. This will be released in Spring of 2023. We also add the LitHouse Learning history writing workbook, which will be available about a month after the book is released.
We've really enjoyed using Curiosity Chronicles to teach elementary school history. If you do not like the format of Curiosity Chronicles, I recommend History Quest or History Odyssey.
5th Grade Science Curriculum
In 5th grade, we use the Science Mom Biology 1 and 2 courses. I've been really impressed by everything I've seen from Science Mom. We added on the free Earth Science course for 4th grade and my kids thoroughly enjoyed it!
5th Grade Art Curriculum
For this age I love the units from the Art History Kids curriculum. We all enjoy learning about art history and having projects to go along with the lessons. We also work through the lessons in the book You Can Draw in 30 Days.
5th Grade Music
I recommend having your kids choose an instrument to learn and getting regular lessons. If you can afford private lessons, that's ideal. Your kids might also be able to take music classes at a co-op or your local public school. Alternatively, there are options for learning music online. Hoffman Academy has online piano lessons. You can also find lessons on Outschool.
5th Grade Homeschool Curriculum
These are all of our choices for 5th grade homeschool curriculum. I choose each subject based so that it academically rigorous, easy to teach, and fun for the kids as they learn.