How to Homeschool Preschool
So, you want to homeschool preschool? It's going to be great for you and your kid! The key with homeschooling preschool is that you have to have the right approach. Keep it fun, and make sure kids have plenty of time for free play. Now to delve into what subjects you should teach in preschool.
Just so you know, this really isn't necessary! You don't HAVE TO do anything for preschool! I did absolutely no formal learning with my oldest until he was 5 and a half. He's not behind. He's exactly where he needs to be. That said, my second son, Graham, really wanted to do lessons too once he saw Dominic doing them. So at 4 and a half, I started preschool with him!
And then came my third son who was begging to homeschool when he was just 3! So I created a preschool curriculum for him that would be a playful, gentle introduction to homeschooling called Rhythms of the Year.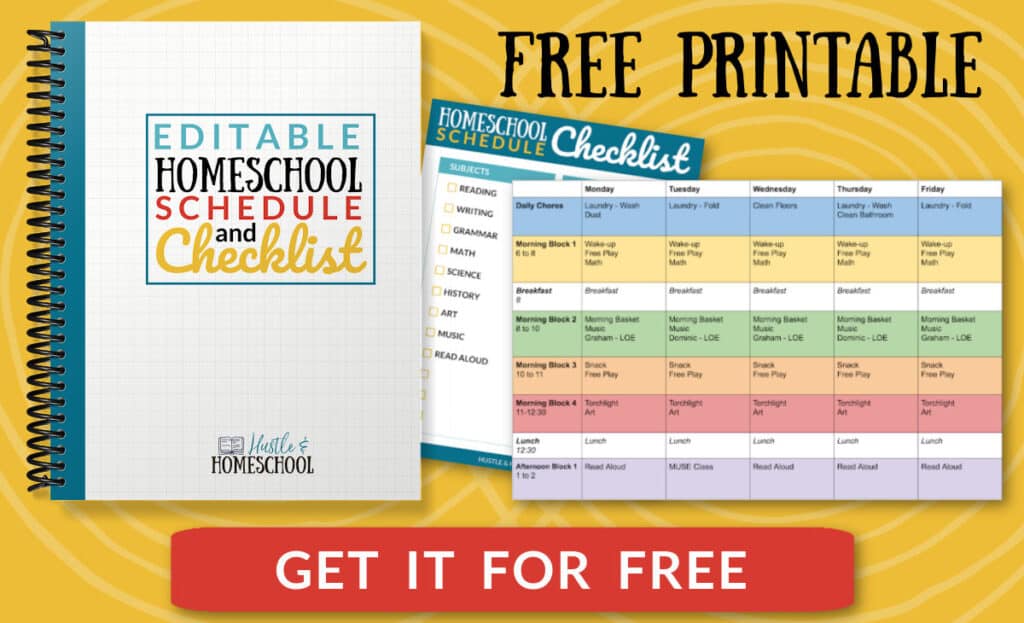 This post contains affiliate links. If you make a purchase after clicking a link, I will earn a commission. Disclosure policy
Subjects to Teach in Preschool
Emotional Intelligence
Calendar & Weather
Math
Phonics
Art
Music
Practical Life
This might seem like a lot, but there are good reasons for teaching each of these subjects to 3 and 4 year olds!
Emotional Intelligence for Preschoolers
This is the perfect age to begin teaching emotional intelligence. Teach kids how to recognize what emotions they are feeling, let them know that their emotions are valid. Then also teach them how to handle those feelings and address any problems that could be causing negative feelings.
There are many great books out that will help you do this!
As kids are introduced to more complex social situations, possessing a strong emotional intelligence will help them navigate tough situations better and help them be better friends. Keep that in mind for yourself, but make this an inward focussed time for your preschooler. It's a time for them to think about their self and become more connected with their own inner feeling and thought life.
I highly recommend watching Daniel Tiger with your preschooler. This show does a wonderful job with emotional intelligence!
Calendar & Weather
These 2 topics go perfectly together in preschool because you will talk about both of them at the same time! Throughout the preschool year learn the days of the week, months of the year, holidays, seasons, and the weather.
I created this Daily Calendar Printable to do just this with my son! It works perfectly to show all of that information. Kids will naturally begin to learn all of them as you go over it each day.
I also highly suggest using songs to learn the days of the week and months too! It's fun and memorable for kids. Just search YouTube to find one you like or use one you remember from your childhood!
During your morning calendar time, have kids step outside for a few minutes to see what it feels like and looks like. This is the first step to teaching kids about weather and the seasons!
Related: Preschool Morning Basket Time
Math
What kind of math should preschoolers learn? Get more info here: IXL PreK Math Standards. These are the general things that preschoolers need to learn.
Shapes
Patterns
Counting up to 20
Subitize
Comparative Measurement
To teach these concepts, you just need a couple of things. And if you want a little extra help and guidance then you should get the book Preschool Math at Home.
Must Have Items for Hands-On Math at Home
This is all you really need to teach your kids basic math concepts. Remember, keep it very hands on at this age, include movement, and never do too much at once.
As a side note, some kids find all of that to be too basic and are ready to move into more challenging math. If that is your kid, then you can follow their lead and choose a math curriculum to start with. Just remember to go at their pace.
Phonics in Preschool
Do not teach your kids the alphabet! Yes, you read that right. Learning the alphabet does not help kids learn to read, and for some kids it actually is very confusing. Do not do the letter of the week. Instead, use an evidence based phonics program OR wait and start this in kindergarten.
You don't have to start teaching phonics in preschool, but you can give it a try. Some kids won't be ready yet (just set it to the side & come back to it in 6 months or a year), others will be very ready for it!
If you decide to start teaching phonics, then I highly suggest you use Logic of English Foundations. It truly is the best curriculum for young kids because it includes games and movement! (Seriousl, my 4 year old BEGS to do his reading lesson & thinks it's super fun!) Plus it's an incredible & effective curriculum.
Want to know more? Read my Logic of English Review here.
Art for Preschoolers
All kids should get the chance to experiment with arts and crafts! There's a really great book that I think all parents of young kids should read. It's all about creating a home full of art and creativity and approaching the artistic endeavors of our kids with the right mindset. Plus it has tons of art & craft projects!
When exploring the world of art with our preschoolers, we must remember that it's about the process of making the art. The experience and satisfaction of making something with their own hands. We don't need to critique it. What we need to do is come alongside our kids and help them discover new ways to approach art and give them the time and space to experiment!
Related: Best Books to Teach Art to Kids
Music
Listen to music, dance, sing, and play instruments with your kids! This doesn't need to be formal music education. You just need to enjoy music with your kids and expose them to different types of music.
If you want to give your kids a bit more formal music education that is super fun and made for preschoolers, check out Prodigies Music. My kids LOVE it.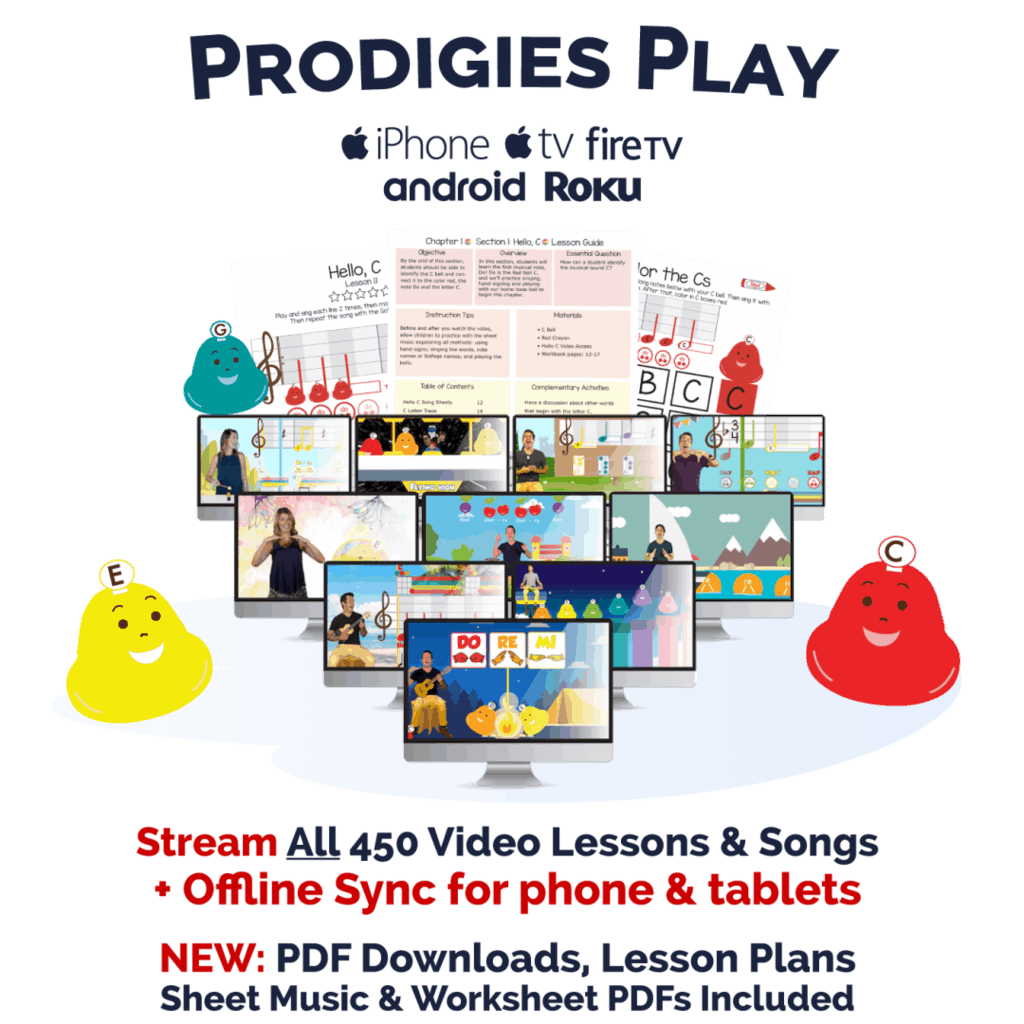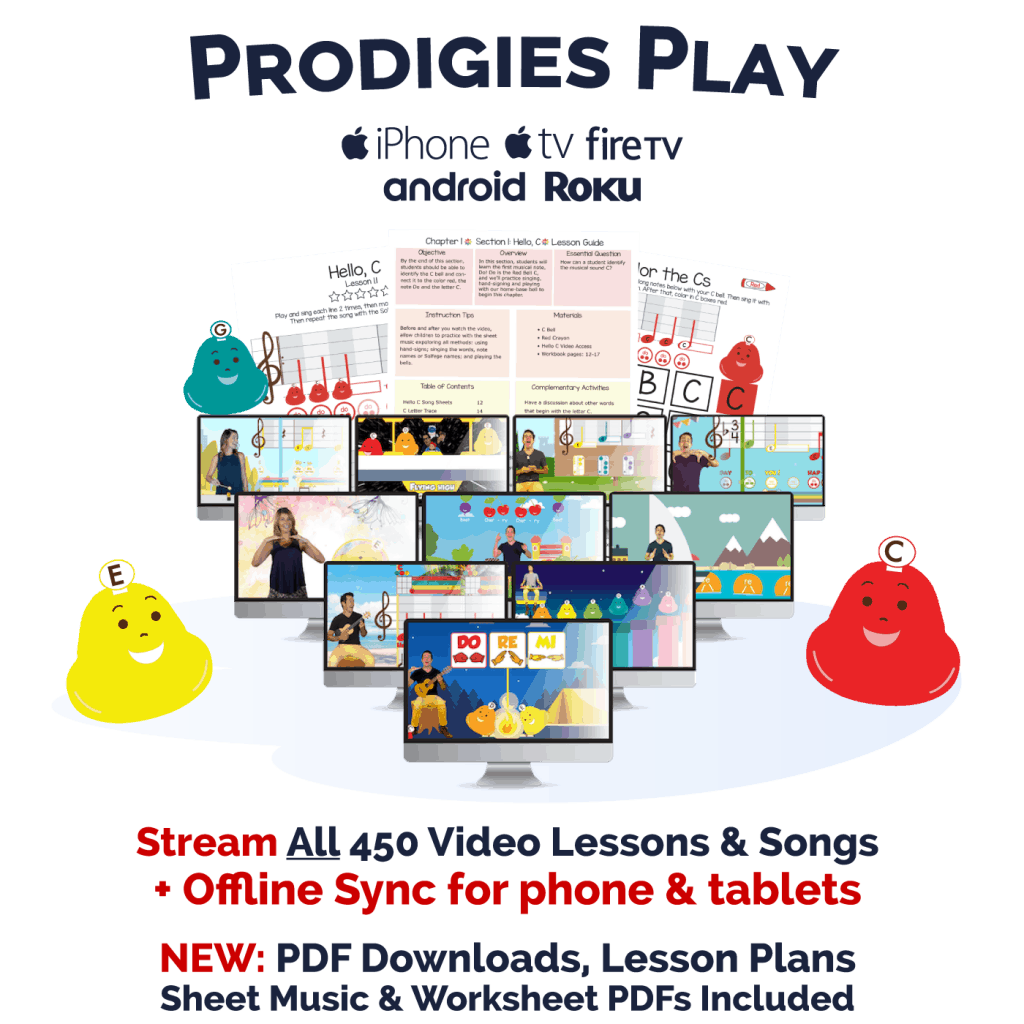 Practical Life
What is practical life? It's life skills also known as chores to some people, and it is a must teach subject in preschool. It's important for kids to start to learn how to help around they house. You will need to work alongside them. Most 4 year olds will not be able to do things without having an adult with them to encourage them. They'll get it, but it will take time!
Practical Life Skills for Preschoolers:
Pick Up Toys
Wipe off Table
Fold & Put Away Clothes
Dust
Swiffer
Yes, 4 year olds can help around the house! Start teaching them how to do things as you do them and have them help you.
Preschool Schedule for Homeschoolers
Now that you know what subjects to teach in preschool, you need to have a daily schedule! Click here for a step-by-step guide on how to create a personalized homeschool schedule.
Here is an example of our daily preschool schedule: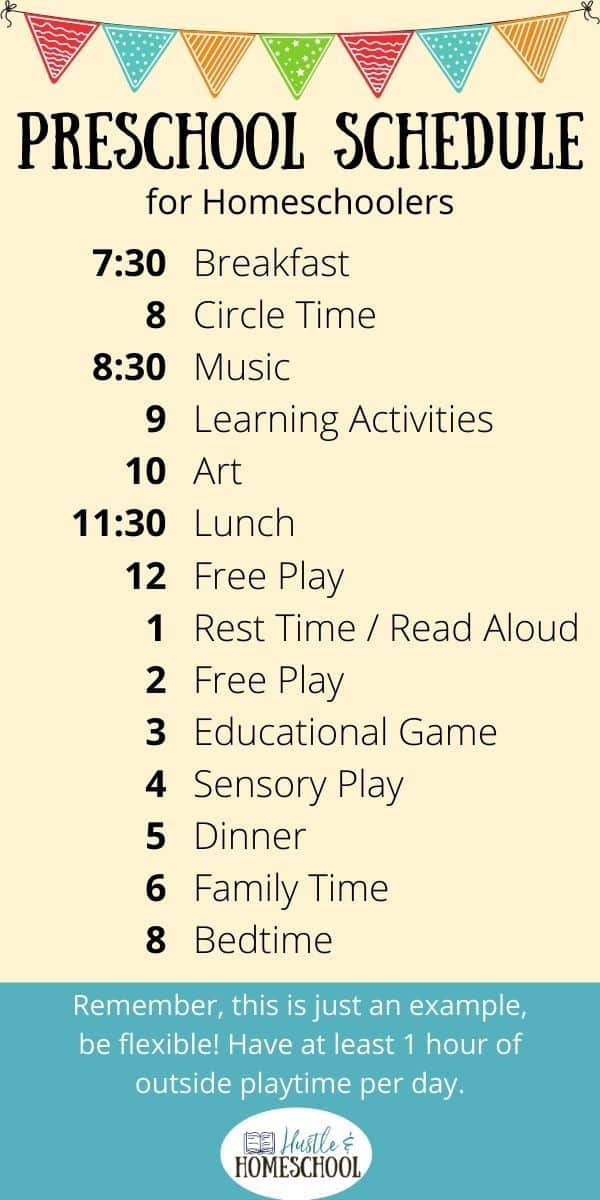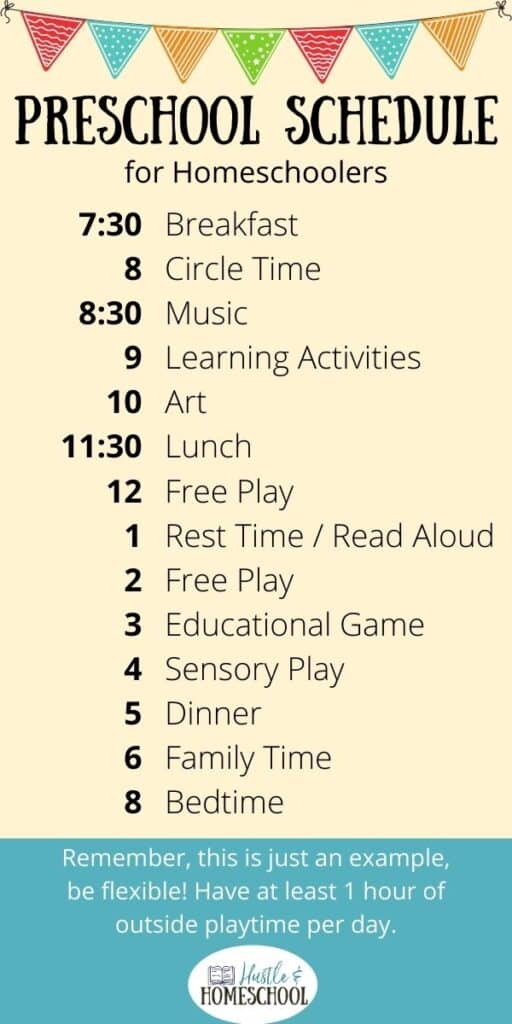 Please note that the times in this schedule are relative. You won't necessarily spend a full hour on these activities every day. Always be aware of your child's needs in the moment. It's ok to move things around and be flexible throughout the day!
Subjects to Teach in Preschool
Preschool is such a fun year with your kids! Enjoy all of the hands-on, experiential learning, but most of all enjoy your kids. Remember to approach the subjects you teach in preschool with relaxed and fun methods. Incorporate movement, art and music as much as you can.
If you want a preschool curriculum designed with this in mind, check out Rhythms of the Year here!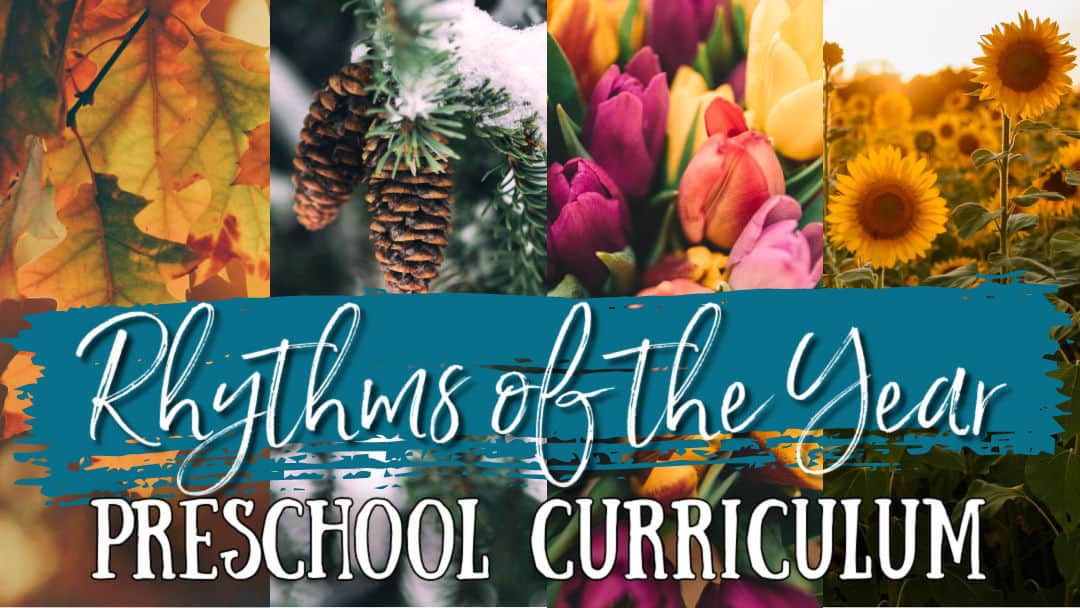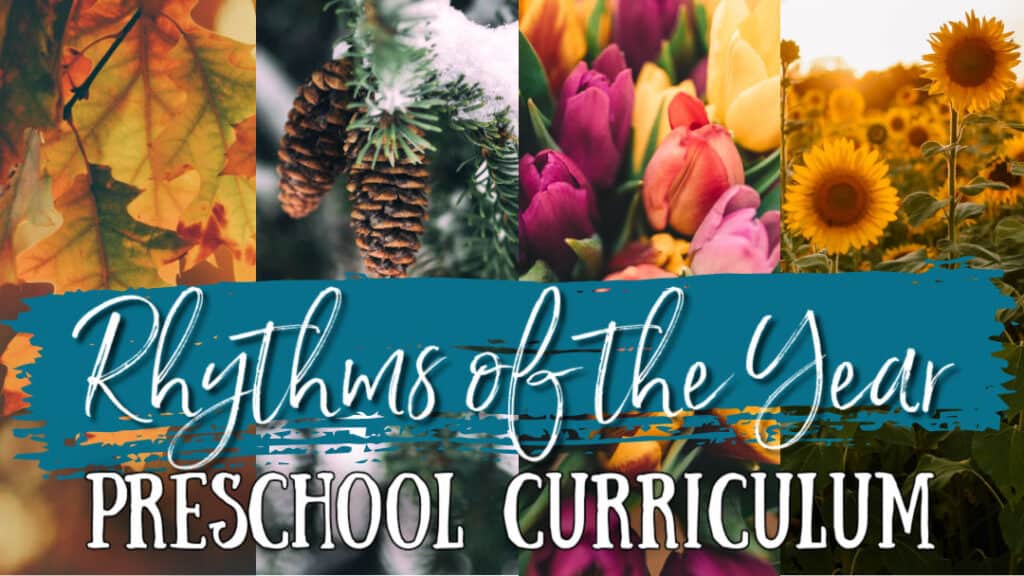 Read Next:
Share & Pin It!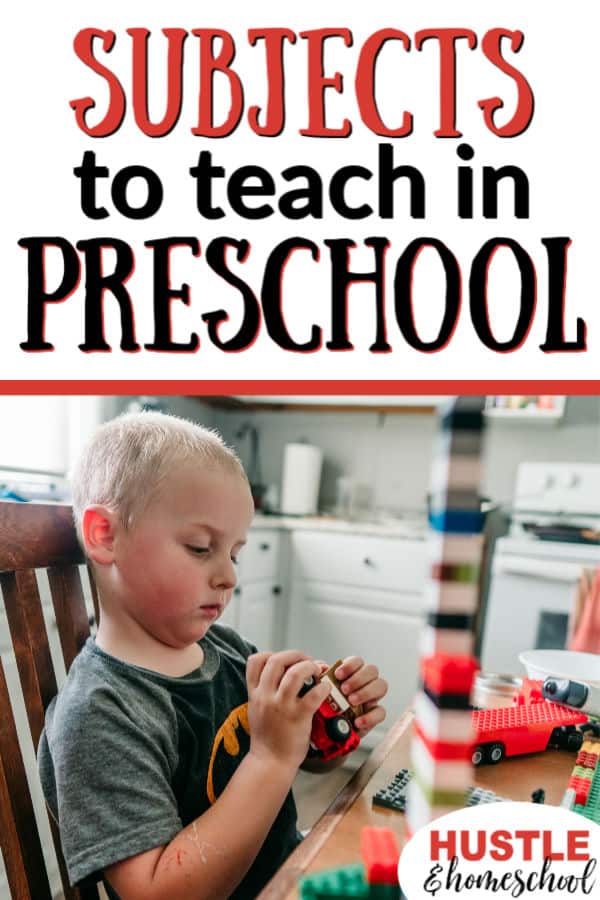 How to Homeschool Preschool