What kid doesn't love dinosaurs? They are fascinating! My boys have been obsessed with dinosaurs for a few years now and lately they've been expressing an interest in diving deeper and learning more about dinosaurs. Dominic regularly tells us that he wants to be a paleontologist! So I decided it was time to put together an awesome dinosaur unit study.
This unit study is designed to be used with kids in elementary school.
One key thing to keep in mind is that in the past 15 years, there have been many new discoveries about dinosaurs, so it's important that your resources are published recently. Having a couple of older books too can lead to a great discussion about how new scientific discoveries change and shape theories about dinosaurs.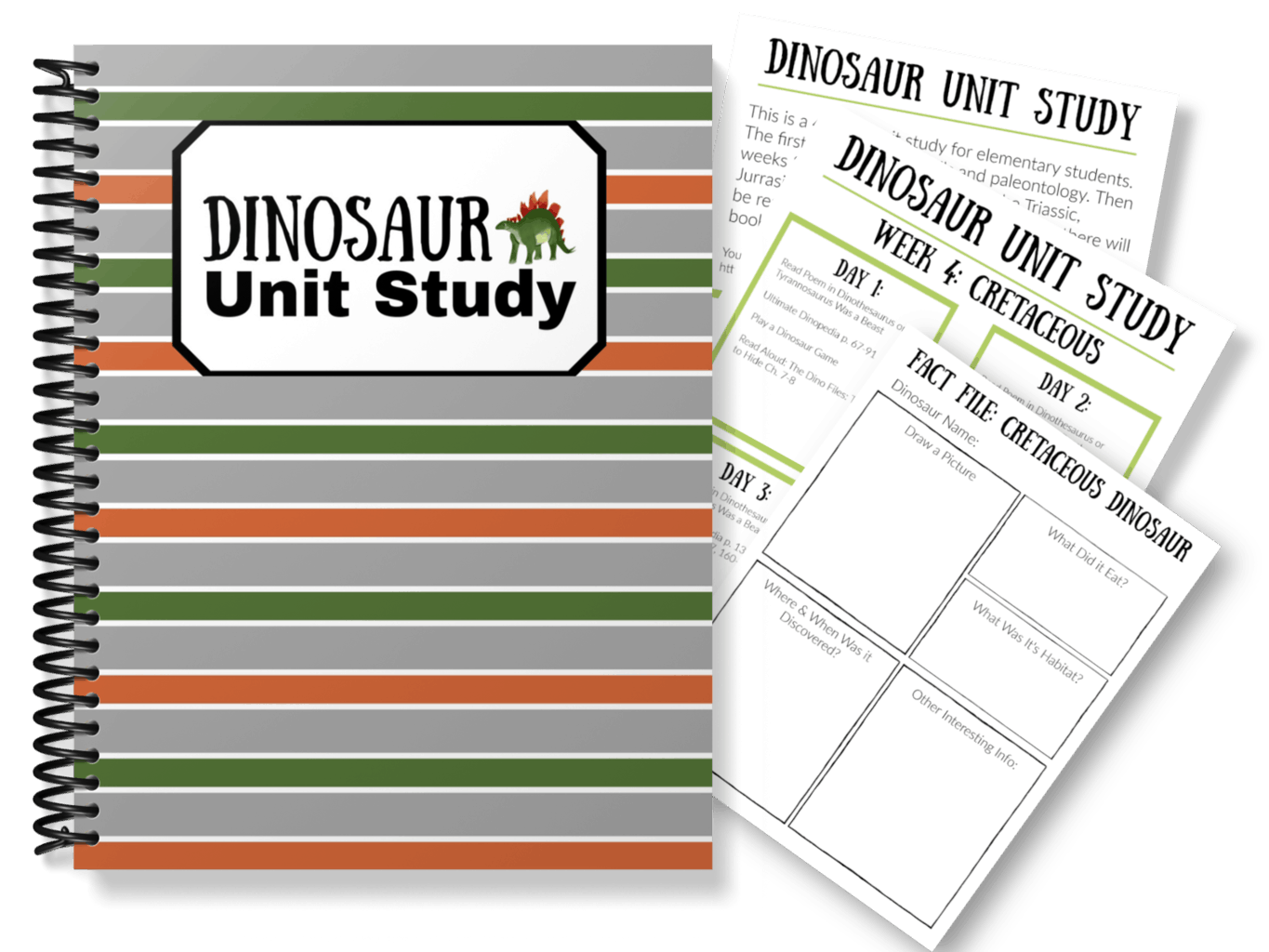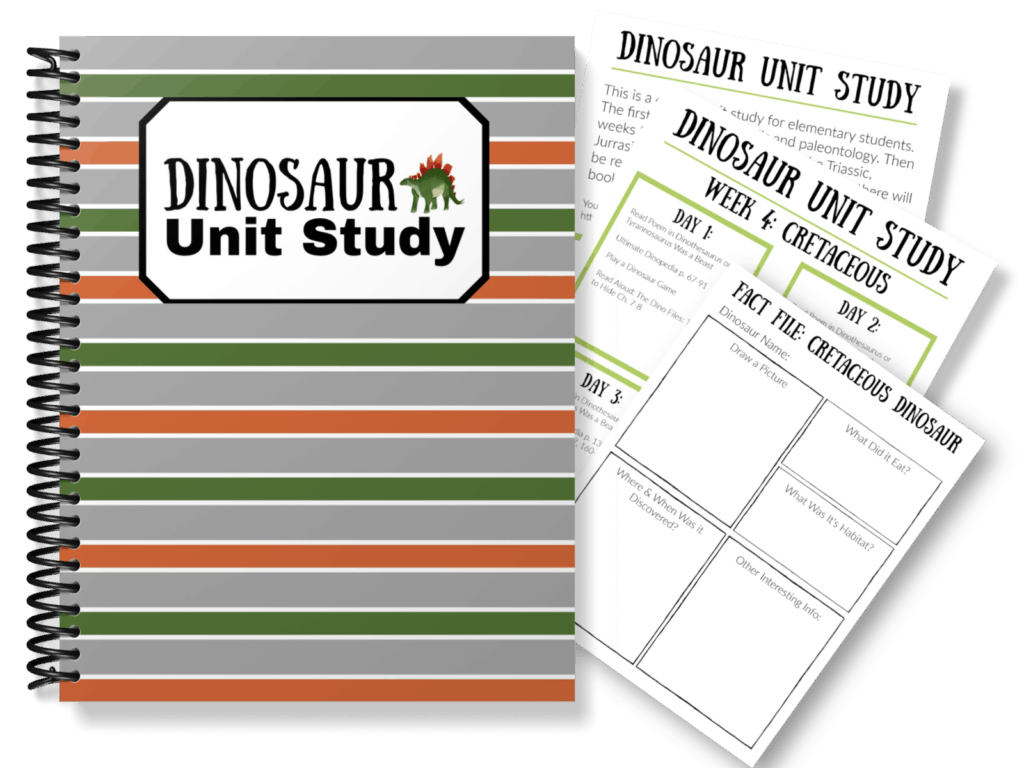 This post contains affiliate links. If you make a purchase after clicking a link, I will earn a commission. Disclosure policy
Books Needed for Dinosaur Unit Study
Extra Books

There are some awesome non-fiction books that will be a great addition to this unit study. These have some unique facts and perspectives in them that will add more to the unit study if your kids want more!
Bonus for Parents & Older Students: The Rise and Fall of the Dinosaurs
Hands-On Activities
Help kids understand more about dinosaurs by doing hand-on activities! These will be fun and give kids concrete learning experiences.
Dinosaur Skeleton Matching – Let kids discover how the skeleton shows the shape of the dinosaur.
Dinosaur Play dough Kit – Discuss habitats and what kinds of places different dinosaurs lived.
Visually Represent How Big the Dinosaurs Were
There are so many different things you can do with your kids! For more inspiration, check out my Dinosaur Unit Study Pinterest Board.

Crafts
If your kids enjoy crafting, then do some fun dinosaur crafts!
Games
There are some awesome dinosaur themed games that the whole family will LOVE! These are such a fun addition to this unit study!
Fiction Books
These fun fiction books will delight the kids!

Also get a few leveled readers that your child can read!

Poetry Books
During your dinosaur unit study, do a dinosaur themed poetry teatime!

We have Jack Prelutsky's Tyrannosaurus Was a Beast and my boys love it! It is an older book though and has some outdated information and pictures of dinosaurs. My kids were quick to notice it and it led to a good discussion about science and new discoveries paleontologists have made about dinosaurs.
Field Trip
Head to a museum or dig site and get up close and personal with the remains of dinosaurs. Nothing could make quite the same impression as seeing the work of paleontologists first hand. You might not be able to find one nearby with dinosaurs, but you could always plan a road trip! We have a dig site near us, what they've found so far there is from the Miocene era, not dinosaurs, but still amazing.
Online Classes
To add on to your dinosaur unit study, you could also add an online class. The FREE Dino 101 Class on Coursera offered through the University of Alberta is a great resource. You can do it with your child or if they are old enough, let them do it on their own.
Documentaries
One of our favorite places for awesome Dinosaur Documentaries is Curiosity Stream. Click Here to get a FREE month of Curiosity Stream.
Curiosity Stream has all of the best Dinosaur Documentaries all in one place. Plus it has over 2,000 documentaries in total, so you'll be able to use it for all kinds of topics!
Toys
I definitely recommend getting some high quality dinosaur toys. My boys really like Schleich Dinosaurs, they are much more detailed than others.
You can also get a great play mat to go along with them.
Let your kids play and explore with these toys, if you watch closely, you'll see them start to incorporate everything they have learned into their play.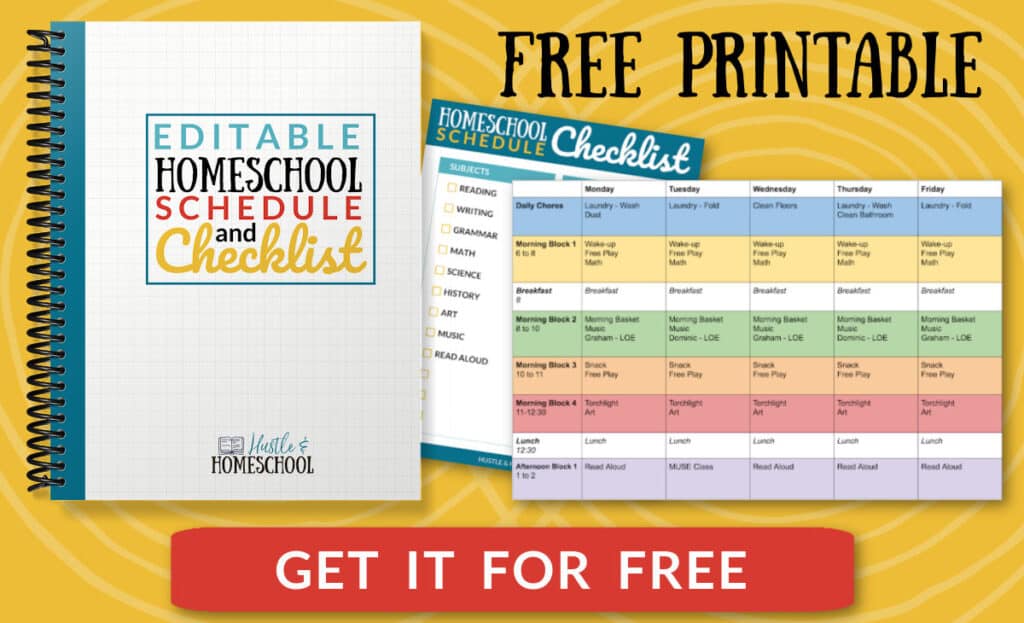 Dinosaur Unit Study for Homeschoolers
That's all you need to assemble an engaging and fun unit study about dinosaurs! You might find that 1 week is plenty of time for you or you might want to dig in deeper and keep studying dinosaurs for 1 month or even longer.
Read Next: Best Evolution Books for Kids
Pin It & Share!