Best Planner for the Busy Homeschool Mom
Life can be busy and hectic for homeschool moms. There is so much to do: homeschooling, housework, extra curricular activities, and cooking. At the end of the day, you're just exhausted from managing it all.
Do you feel like you're missing something? Like you want more for your life & your family life?
Design a life you will love with the Hustle & Homeschool Planner
From the big picture to the small details, you can manage homeschooling & life with the Hustle & Homeschool Planner. Be more intentional with your time, reach your goals, and track your progress all in one place!
What does a homeschool mom need in a planner?
Space to schedule homeschooling & personal pursuits
Monthly Overview
Goal Setting Pages
A Reading Log
Attendance Tracker
Do you like to hold a planner in your hands? Do you want to physically write down your schedule, goals, and appointments? There are so many planners out there, sometimes it's hard to just pick one. As a homeschool mom myself, I understand that! That's why I created a homeschool planner to meet all the needs of homeschool moms.
Homeschool moms need a flexible planner that can be used for both homeschooling and your personal life!
Hustle & Homeschool Planner
This minimalist planner has everything you need, while also leaving lots of room for customization!

I found that most planners for homeschool moms available just didn't have quite what I needed, so I created a planner to meet the needs of homeschool moms.
With this planner you can:
Identify your goals, make a plan, and succeed in reaching your goals.
Consider the big picture overview of your month and plan the details of each day.
Choose habits that you want to develop or track. These will help you reach goals, keep homeschool attendance, and so much more!
Keep track of all the books you read each month. This is incredible to be able to look back on.
This is also an excellent planner for middle and high school students.
Approach your life with purpose and design a plan to create a life you will love.
Inside the Hustle & Homeschool Planner you'll find:
12 Month Calendar pages
Monthly Habit Trackers
Goal Setting Pages
Monthly Reading Log
2 Page Weekly Spreads for every week of the year
Extra lined pages for notes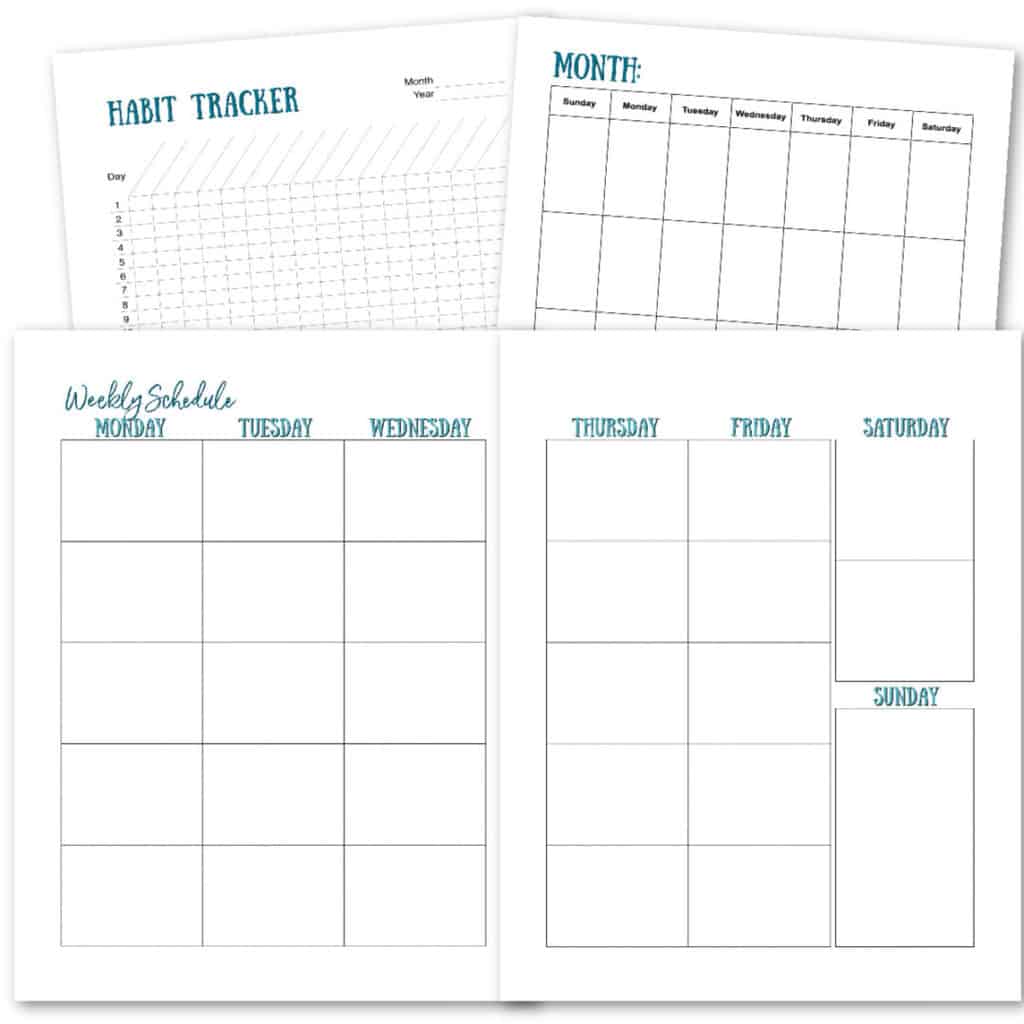 Instead of having a separate planner just for homeschooling, this planner can be used to plan your homeschool, life, and business!
Best Planner for Homeschool Moms
The Hustle & Homeschool planner is available as a Digital PDF delivered via email or as a Printed and Spiral Bound book mailed to you.
Do you want to print & bind your planner yourself? Then the digital planner is for you!
Do you want to have everything done for you & shipped to your door? Then a print planner is for you!
Save with the Homeschool Planning Toolkit!
Need help designing a weekly homeschool schedule? Want a central place to plan your curriculum selections? Get the Homeschool Planning Toolkit.
The digital version includes the Homeschool Planner. If you choose the print version, you will also need to add a print planner to your order.
Share the Best Planner for Homeschool Moms!