Why did you choose to homeschool? Probably because you felt like traditional education was missing something. Right? As homeschoolers we want something different. Something more. We want our kids to delight in learning. We want to give them a magical homeschool experience.
Now, we're not talking Harry Potter magic here. We're not going to be teaching our kids spells (unless you create a unit study around Harry Potter, and then you might!)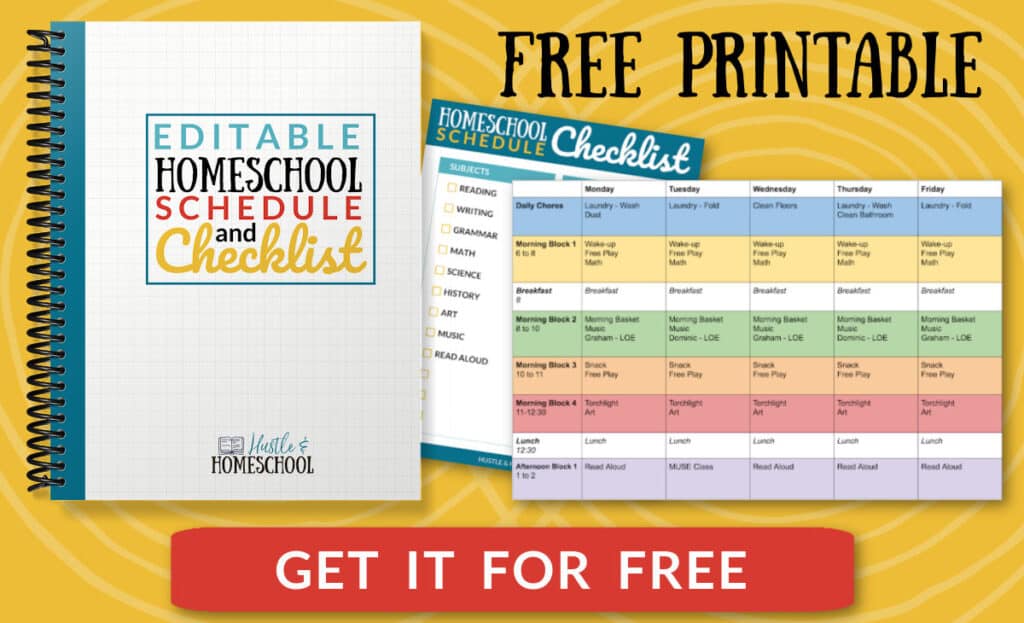 This post contains affiliate links. If you make a purchase after clicking a link, I will earn a commission. Disclosure policy
What we need to do is sprinkle in the pixie dust so that our lessons soar and our kids are captivated. We want them to look back on their homeschool years with a feeling of love and nostalgia, like how Christmas morning felt as a child.
How do we evoke that feeling of enchantment?
All those fluffy words are nice, but you need something practical now, right? So let's dive in and learn the practical steps you can take to create a magical homeschool for your family!
5 Secrets to Creating a Magical Homeschool
Follow Their Interests
This is the easiest way to sprinkle in the pixie dust. Use your child's interests in their lessons. Incorporate dinosaurs into math problems. Use Minecraft to build historical structures or cities.
Do they LOVE YouTube? Have them write a script for a video, act it out and share it!
And if you want to level up, you can make a full unit study around their interests that incorporates every academic subject. There is SO MUCH you can do here! Get creative & surprise them. Show your kids that you know the kinds of things they like & care enough to tailor their education to them.
Have a Seasonal Rhythm
This one is so important! Having a good seasonal rhythm in place is grounding. Create new traditions that go along with the seasons and holidays. Lean into all the things you naturally do during certain seasons, the activities you do, the meals you make. Emphasize them.
Create a seasonal book rotation for elementary age kids. Have a collection of books related to the season that you only pull out and read during that season.
Related:
Create artwork inspired by the changing seasons.
How do the seasons make you feel? Most people find that they are more outward focussed in Spring and Summer, then more inward focussed during Fall and Winter. Work with your natural instincts to create a seasonal rhythm that feels right for you.
Start a New Weekly Tradition
Weekly traditions are the sprinkles on top of each week's lessons. They are extra special and enjoyable. They are the things you kids look forward to throughout the week.
There are many options:
Poetry Teatime – Light a candle, have a yummy treat, drink out of fancy tea cups, and read some poetry together.
Family Movie Night
Arts & Crafts Afternoon
Nature Walk
All of these weekly traditions will add so much magic to your days! It's ok to get started slowly. Pick 1 to start with and then add another when you're ready. None of these have to be planning intensive, just enjoy the special time with your kids.
We do Poetry Teatime every week and my kids LOVE it! It is so special and has instilled a love of poetry in them even at their young ages.
Each week, I try to bring my kids a new special art project or craft to do together. They always have supplies available and can do their own freestyle projects anytime.
We don't do family movie night every week. Instead we do it once a month, but we go all out and have special food and rent or buy a new movie to watch together.
Daily Family Read Aloud
Most families read to their young kids, but many let it go once their kids are older. No matter what age your kids are, family read aloud time should be a part of your day! Reading a good book together will lead to the best discussions. It's also a nice, quiet time for everyone to just be together.
Reading aloud a lot can get tiring though, so definitely include audiobooks! Then you can sip on your coffee and just enjoy the story with your kids.
Take advantage of this AMAZING offer from Audible. You'll get 2 free audiobooks plus 2 Audible originals – which are awesome!
Change It Up!
Be spontaneous! Take your books outside. Drop everything and go on an impromptu field trip! Do math at an ice cream parlor. There are so many different things you could do to spontaneously change up your days!
Doing this occasionally will add a little spark of fun and make the day extra memorable!
Go Cast Your Spell
Now you have all the tools and ideas you need to make your homeschool magical! It's ok to start slow by adding just a couple of things at a time. Make a plan and do it though.
Adding these magical elements of education to your homeschool days will completely transform you and your kids homeschooling experience!
As you implement these ideas, take pictures & tag me on Instagram @hustleandhomeschool
Share With Your Friends & Pin It!