Make writing fun with these games and activities for kids, families, and homeschoolers!
Practicing writing can be a daunting task for many kids, and let's be honest, just people in general. Writing is such an important skill though! So how do we help our kids practice writing & keep it fun? We use writing games & activities!
In my family writing is incredibly important. Our kids know that my husband and I are writers in addition to other jobs we have. I write here on this blog and my husband is writing a book series that will be released in 2021. The kids see us write every single day. It is also a requirement for our kids to write something every day.
Just saying, "Go write something," can be too broad or get boring after a while though.
There are so many fun ways to change it up and include writing in your day.
Writing Games for Kids
Dice Tales
This is a brand new game that I made for you! We've played it as a family and my kids have really enjoyed it. It helps them flex their creativity and think outside the box.
The full game includes an instruction page, 3 pages of different genre themes, and a blank sheet to make your own dice tales in whatever theme you want! The full game is included in the Writing Games & Activities Printable Pack here.
How to Play:
Choose which genre sheet you want to use for Dice Tales.
Assign one color die to the top row and a different color die to the column.
Roll the dice 3 to 5 times to get story elements. Write each of them down. Write a story including each of the 3 to 5 elements you rolled.
This can be done as an individual activity or group activity.
Group Variations:
Each person writes their own & then read them aloud.
Write in a round, where 1 person starts, writes 1-3 sentences then passes to the next person.
Could be done orally
You can get the instructions & 1 page of the game for FREE! Just fill out the form below & it will be emailed to you.
This post contains affiliate links. If you make a purchase after clicking a link, I will earn a commission. Disclosure policy
Writing Games & Activities Pack
This printable pack of writing games & activities will engage your kids & make writing fun! They can be used by a single person or as a group game.
These games and activities will engage both reluctant writers and budding authors. The games and activities have instructions for both individuals and groups.
Add these to your homeschool writing curriculum or a family game night.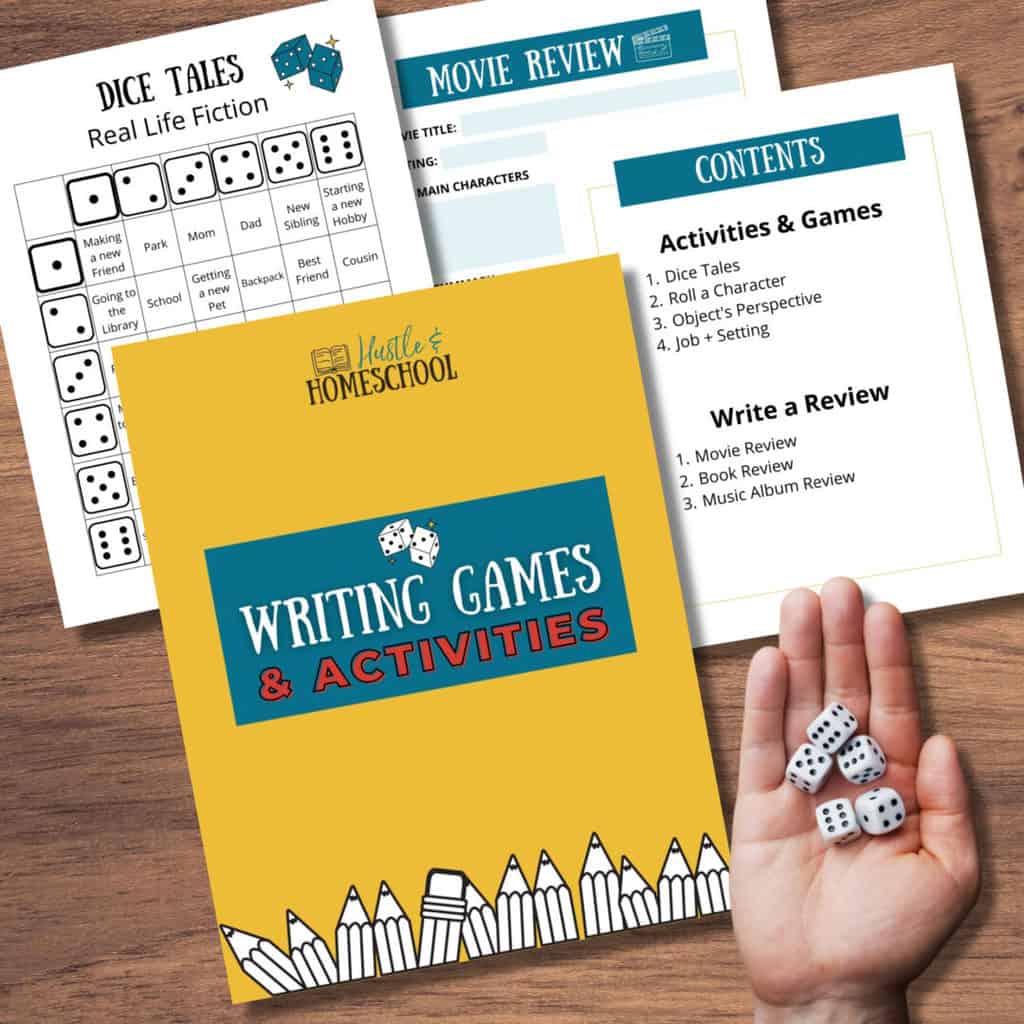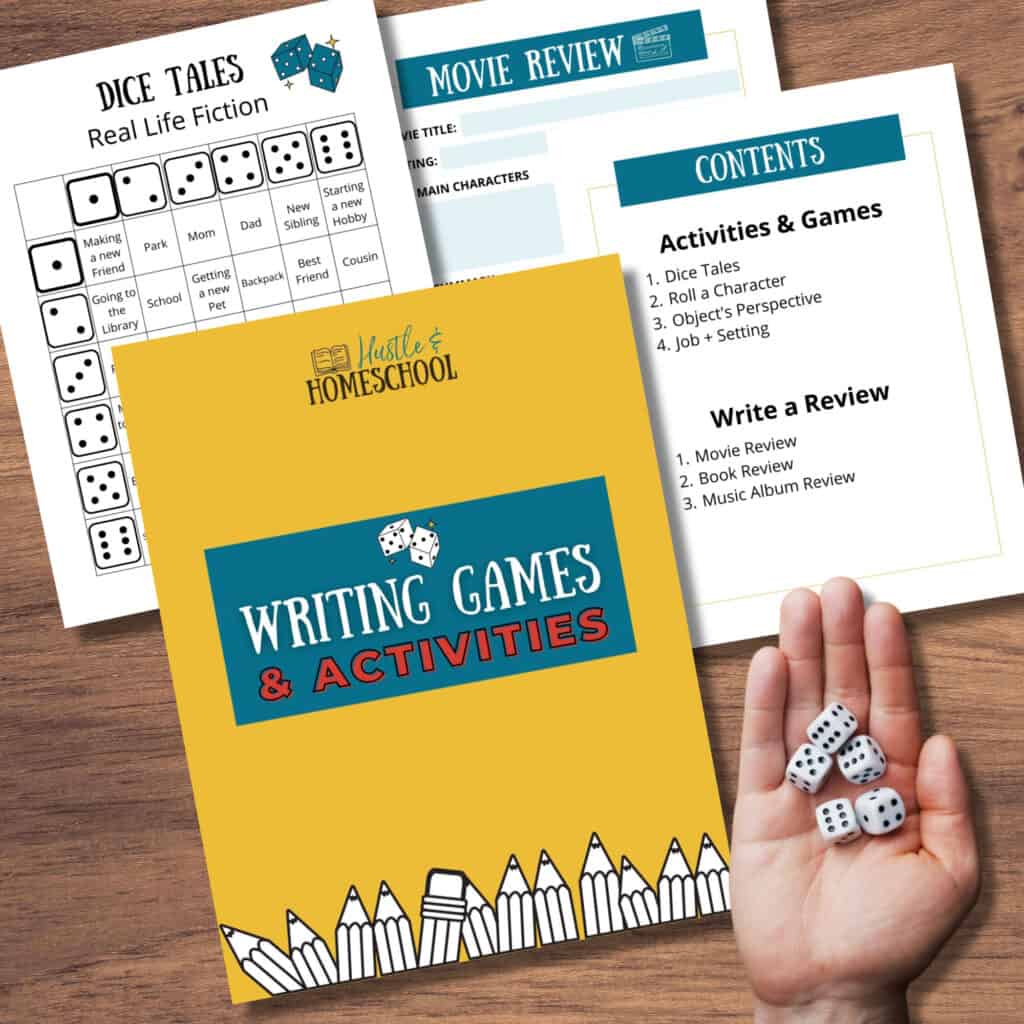 What's included:
Games & Activities:
Dice Tales
Build a Character
Object's Perspective
Job + Setting
Write a Review:
Movie Review
Book Review
Music Album Review
---
Other Writing Games
There are tons of great card games and board games that are great for developing writing skills! Check out some of these games by clicking the links below. These are great additions to family game night and make great gifts for kids!
Always pair fun & education!
Night Zookeeper
This is a really fun online writing game for kids ages 6 to 12. It's engaging and also includes feedback on what they're writing. It includes creative writing, spelling practice, and grammar instruction.
If your kids enjoy fantasy or animals, then they will like this game!
They have given my readers a 7 day free trial & 50% off a membership! Click here to get the discount on Night Zookeeper.
WriteShop Printables Mega Pack
This mega pack of printables includes over 600 pages of games and activities for kids from prewriters to teens. No matter how old your kids are, you'll find writing activities that they can do!
Click here to get the Writeshop Printables Mega Pack.
Other Educational Games
Pin it & Share