Every December we do a countdown to Christmas, where we have a special activity to do each day leading up to Christmas. Three years ago, we decided to do a Gingerbread House Decorating Party at the great grandparents house with our whole extended family. It was so much fun, and it is now one of our traditions that we include every year in our Christmas Activity Countdown!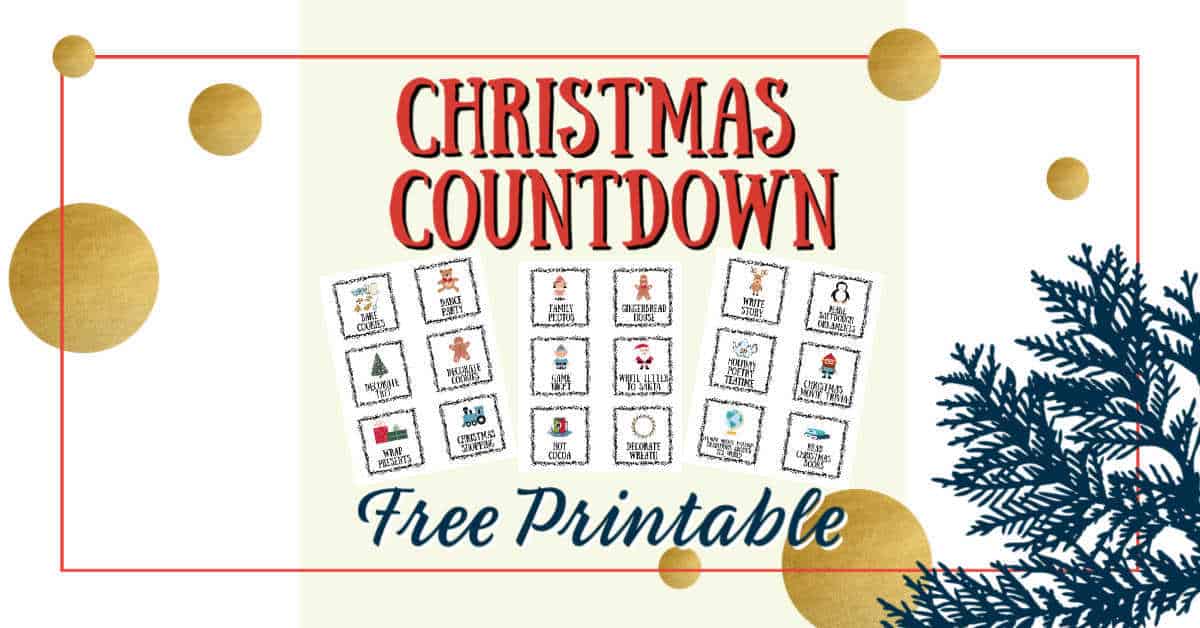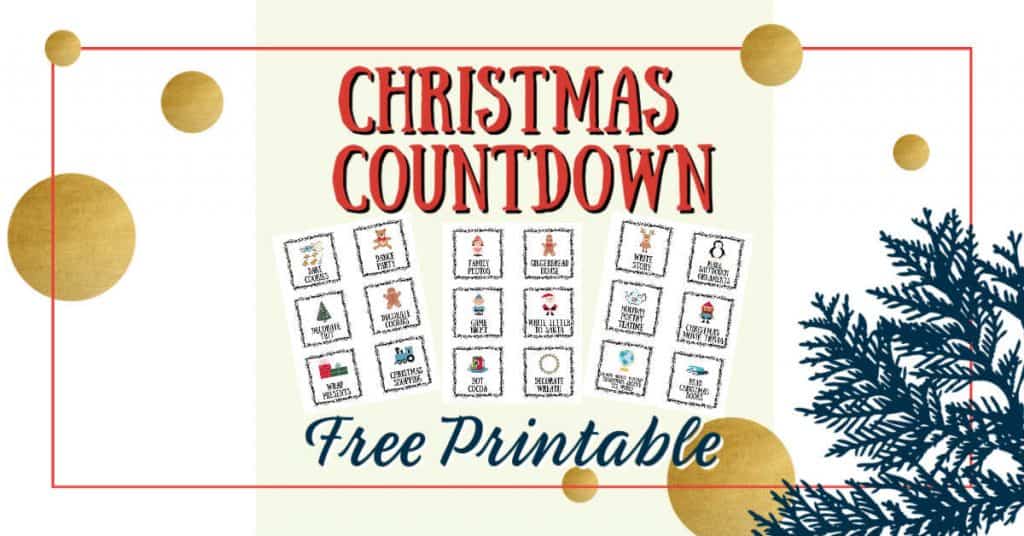 This post contains affiliate links. If you make a purchase after clicking a link, I will earn a commission. Disclosure policy
Who doesn't enjoy making gingerbread houses?
Well, ok, sometimes it's not enjoyable when they won't stay together. In that case use hot glue OR get one of those awesome kits that has the house already put together! We always go with the second option!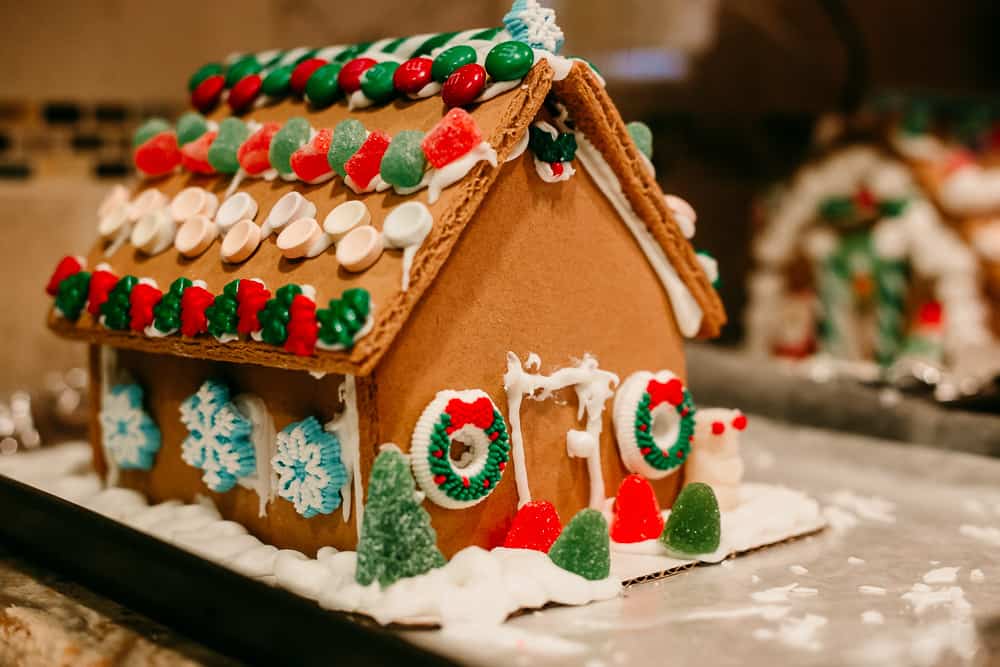 How to Plan a Gingerbread House Decorating Party
Choose a group to do the Gingerbread House Decorating Party with. You could be like us and do it with your extended family, or you could get together with a group of friends or your co-op!
I'm going to continue talking about doing it with your extended family, but just know that this could work with any group!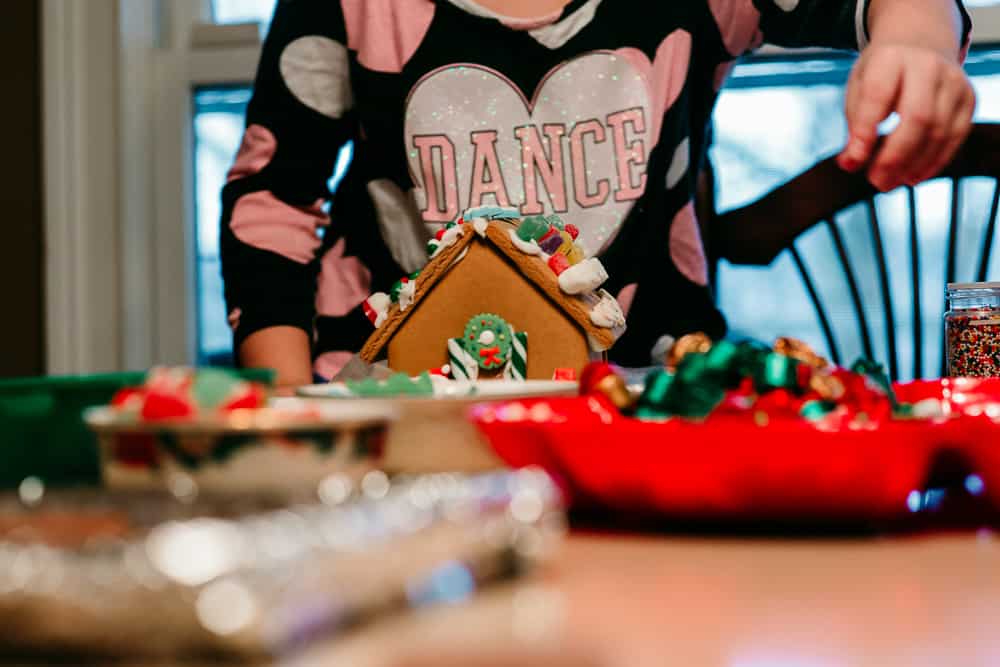 First you'll need to talk to your family and pick a date. You could do it during your normal extended family gathering. We didn't want to have to rush the experience, so we chose a weekend day early in December. It worked out wonderfully, and we've done it that way ever since.
The easiest thing to do is have each family get enough gingerbread house kits for themselves, then also get one of the extra large ones for everyone to collaborate on.
I highly recommend getting the kits that have the houses already put together. It is so much easier and makes the experience more fun. No one wants a house to fall apart in the middle of decorating it! Or never get it to stick together at all….yeah we might have experience that with a gingerbread train.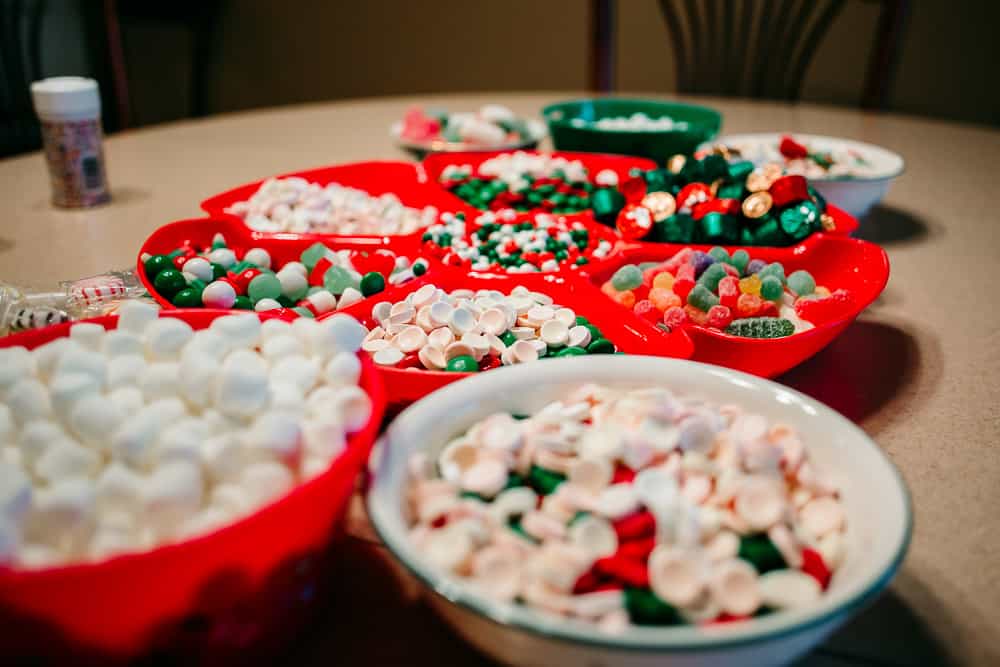 Have a few large trays to put all the candy on.
Young kids will need help from an adult with the icing bags. They can get really messy, so just be prepared!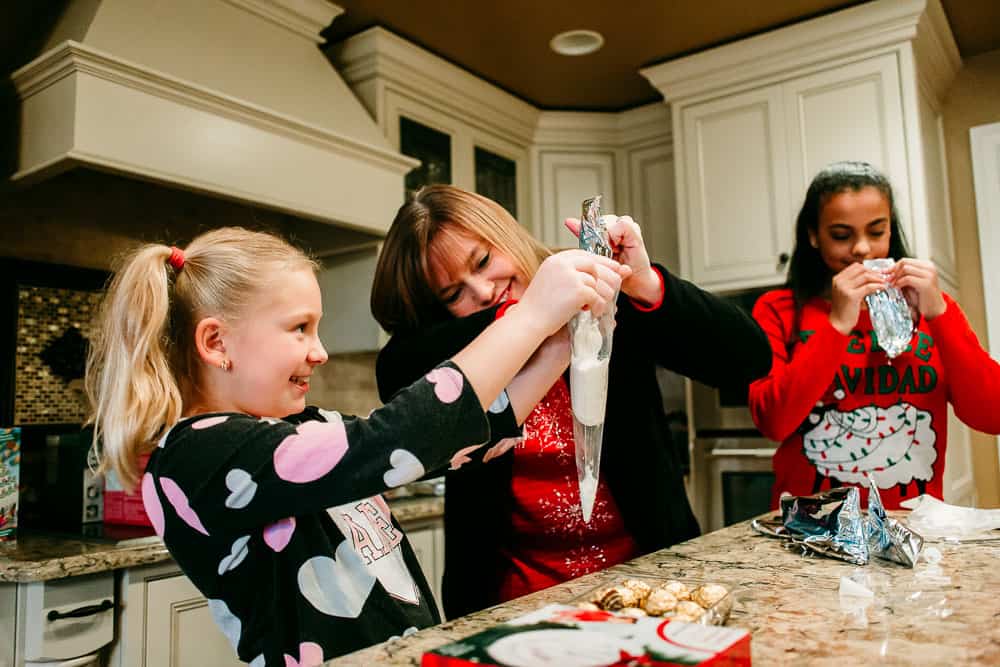 Choose a table that everyone can sit around and participate in decorating the gingerbread houses! This was one of our mistakes the first time we did this. We should have used the bigger dining table instead of the little table in the kitchen. It worked, but it was tight! And most of the adults were left standing off to the side.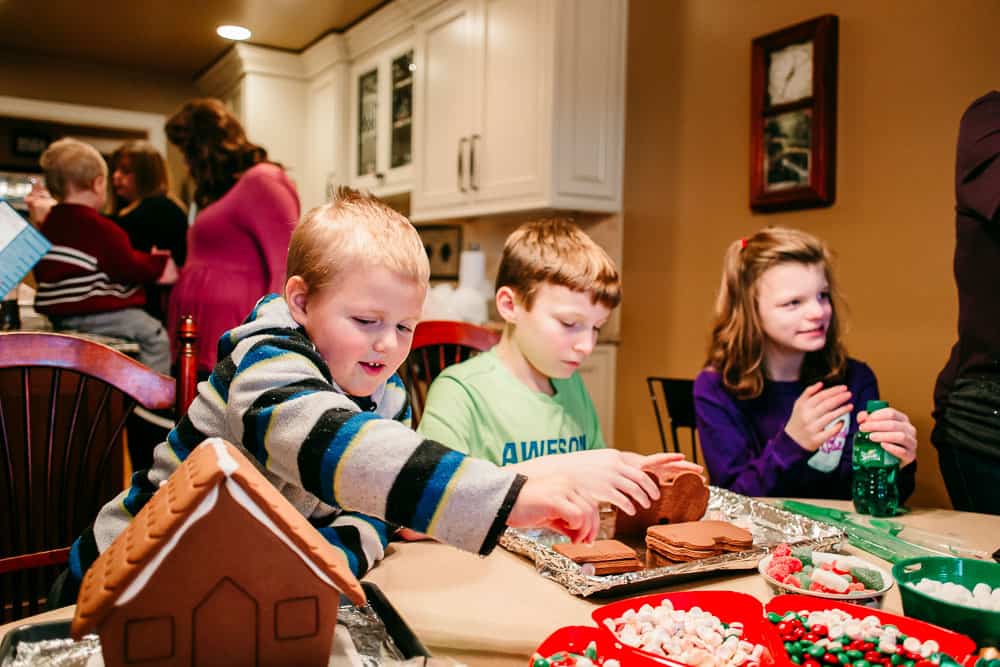 Put the gingerbread houses on trays of some sort so that they are easy to move to the side to dry.
Expect the kids to eat lots of candy and make some crazy looking houses! Remember, it's about the experience, not having perfect looking gingerbread houses.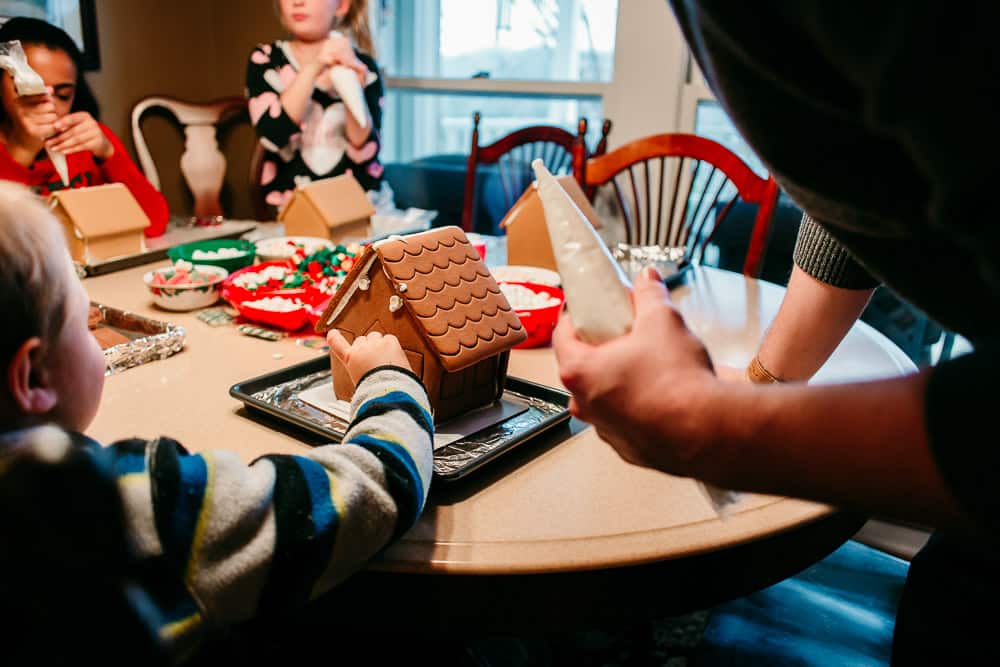 Be present, but if someone can take pictures or would rather do that than decorate, they should. These are precious memories that your whole family will cherish. It's so worth having someone be the photographer (or even hiring a photographer!) to document experiences like these.
These moments. Your family traditions. They are worth documenting. Make sure you're in the photos too though! Trade off who is taking the pictures so that everyone can be present.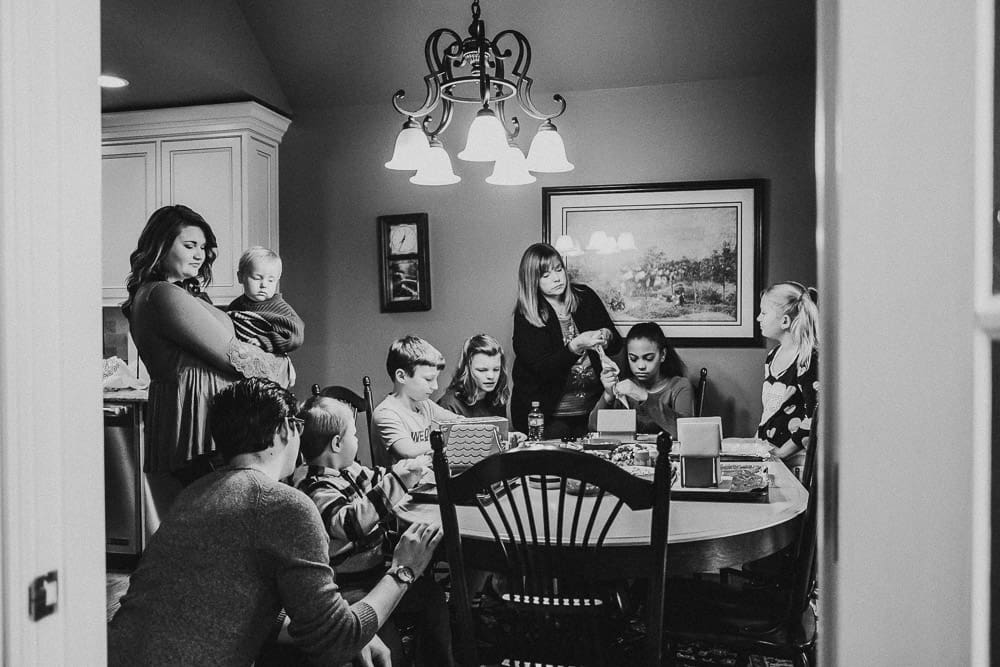 Choosing meaningful family traditions around holidays is so important! This Gingerbread House Decorating Party is a super fun one that doesn't take too much effort to plan or do.
Will you host a Gingerbread House Decorating Party this year?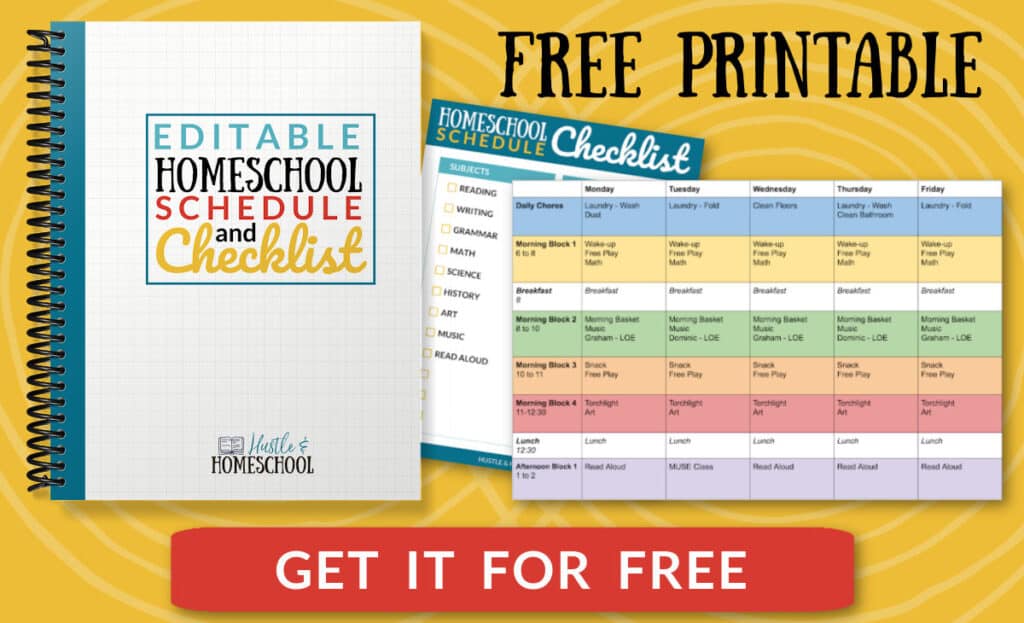 Pin it & Share Please!