The doorbell rings; it's the postman with a box for us. The boys rush into the room, full of excitement when they recognize the box. This is the scene at our house every month when our Kiwi Co subscription boxes come! We have been getting the subscription boxes for 6 months now, so I thought it was time to share an honest Kiwi Co Review.
This post contains affiliate links. If you make a purchase after clicking a link, I will earn a small commission, but it won't cost you a penny more! Read my full disclosure policy.
Kiwi Co focuses on creating STEAM subscription boxes for kids and teens.
They have 7 lines available ranging from babies up to adults.
We receive both the Koala Crate and the Kiwi Crate each month.
Kiwi Crate Review
Kiwi Co designed the Kiwi Crate for ages 5 to 8. It includes all the materials and instructions for 2-3 projects and a magazine to extend learning. It's like a hands-on unit study curated and delivered right to your door!
Each box is unique. We have received these themes: arcade, the solar system, kaleidoscope puzzles, rainbow optics, secret agent, and the human body.
The topics covered by each box are so unique! Some of the projects have been a little difficult for our 5 year old, but this is his special time one-on-one with Dad so he always has plenty of help.
Each box also includes a magazine that has a comic and more information about the boxes topic plus an extra project!The magazine includes a comic, more information about the topic of the box, an additional project, a couple small activities (like a maze), and suggested books to further learning. Sometimes there's also a themed recipe. Having a kids magazine included in the box is awesome!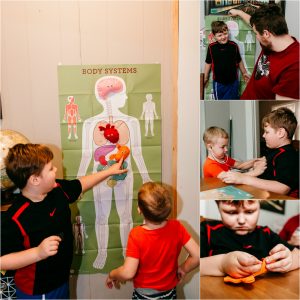 Pros:
For homeschoolers these boxes are great. The box theme is an excellent jumping off point for deeper exploration of related topics and KiwiCo even provides links to more related projects online related to each box!
Builds fine motor skills through the projects with varying amounts of difficulty.
Fun projects that kids look forward to doing.
Includes themed magazine.
Comes ready to use, you don't have to gather supplies!
Cons:
These boxes do take up space and after each one you have to find a place to put it.
The handmade toys and projects are not very resilient and will break if a kid 3 or younger handles them. How do I know? Dominic has failed to put his projects away at some point and his younger brothers have inevitably gotten ahold of them and broken them.
I never expected these projects to last forever, but it is something to be aware of going into it. You aren't buying a long lasting toy through these subscription boxes, you are buying a hands-on project that will create interest in learning more about the box's theme.
They would probably last if your child is more responsible and you don't have younger kids at home.
Would I recommend Kiwi Crate? YES!
Kiwi Crate is a fun and engaging subscription box for ages 5 to 8 that you can utilize as a jumping off point for a deeper exploration and learning.
Koala Crate Review
Koala Crate is designed for ages 3-4 and includes all the materials and instructions for 2-3 projects and a magazine to extend learning. These are simpler projects perfectly suited to 3 and 4 year olds. Most 5 year olds would also really enjoy these boxes.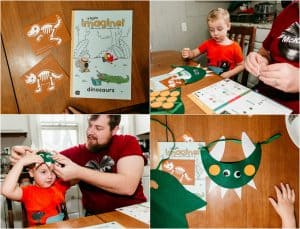 So far we have received 6 boxes with these themes: rainbows, farm, reptiles, music, dinosaurs, and bugs.
Our second son was 3.5 when he started getting these boxes. He has been able to do all of the projects with a bit of assistance, and has found every box to be fun and interesting.
Some of these projects have been more sturdy and we still have them and the kids still play with them.
Included in each box: project supplies, instructions, and a magazine. The magazine includes a short story or comic, more information about the topic of the box, an additional project, a small activity (like a maze), and suggested books to further learning.
These boxes inspired the boys to learn about new topics and furthered learning in favorite areas (dinos). They boxes are perfect for ages 3-5, though they're advertised for ages 3-4.
Pros:
Developmentally appropriate projects for 3-5 year olds.
Projects are fairly sturdy.
Builds fine motor skills.
Topics covered are interesting for this age.
Includes themed magazine.
All the supplies and instructions are included.
Cons:
Have to find somewhere to keep the projects after they have done them.
Some (maybe 1/4) of the projects have broken easily.
Would I recommend Koala Crate? YES!
Despite the accumulation of extra stuff and the projects breaking sometimes, the Koala Crate subscription box is totally worth it!
Your 3-5 year old will love it and enjoy these curated projects.
Kiwi Co Review – Conclusion
Overall, we've been very impressed by Kiwi Co subscription boxes. The boys get so excited to see what's in their boxes each month, learn new things from them, and feel a sense of accomplishment when they complete their projects.
They are a great addition to homeschooling with hands on projects and provide inspiration for kids to explore concepts more deeply.
Plus, I LOVE that I can just open the box and go. I don't have to search Pinterest for the perfect project. I don't have to track down the supplies and try to find books to tie it all together. Instead, we get the ease of having it all delivered to our door and we're able to focus on enjoying the projects and learning.
Pin it & Share!