How to Enjoy Homeschooling Outside
Homeschooling year-round is a great way to make the most of your homeschooling. But when you have pleasant weather, it can also make it difficult to watch the nice weather slip by. You do not need to give up time outdoors to maximize your homeschooling time with your child. Instead, you can take your homeschool outside so you can have the best of both worlds. These tips will help you take your homeschool lessons outside.
This post contains affiliate links. If you make a purchase after clicking a link, I will earn a commission. Disclosure policy
Tips for Taking Homeschool Lessons Outside
Create an Outdoor Workspace
Make a workspace out in the backyard or on your porch. You will need a table and chairs or a lap desk that you can use while sitting on a blanket. All bookwork can be taken outside and done in the fresh air and sunshine.
Create an Outdoor Reading Spot
Build your child an outdoor reading nook. A hammock or lounge chair in the backyard with some shade is a great way to encourage your child to spend time outside doing their reading. Grab a book or Kindle and head outside to do reading. And as a bonus, parents will enjoy this spot too!
Do Math Outside
Math is a great subject for taking outside. Young kids, in particular, can benefit from the many natural math manipulatives that the great outdoors has to offer. You can have your child use rocks to learn simple division or have your preschooler pick a particular number of dandelions to help encourage them to practice counting. These outdoor math lessons require no planning and are highly effective ways to get your child to practice the skills they are learning in a tangible way.
Wild Math has tons of great ideas for how to incorporate math lessons outside!
Incorporate Getting Outside into Your Homeschool Routine
Plan a routine that gets you outside. Read aloud while your child swings or plays in the sandbox. It is a great way to help your child meet their sensory needs and listen better while you read aloud to them, and the fresh air is great for both of you.
Prepare Supplies
Make a basket for holding school supplies to take outside. When you have everything together in an orderly place, it can be easier to get out the door, allowing you to work outside more often and spend more time outside when you do not have to gather your supplies.
Take Specific Types of Lessons Outside
Messy Lessons
Use your outdoor time for doing messy lessons you do not want to clean up in the house. This can include things like explosive science projects, sensory experiences, and fun art projects.
Nature study is a great subject to include in your homeschool. Learn more about what nature study is and how to get started here.
Do Hands-on Science
For example: Learn about the sun and solar power by heading outside to make a solar oven and dook up a fun treat like smores. You can do this with a shoebox, and some aluminum foil, and most kids can do the work on their own with a few simple directions. For older kids, solar toy building kits can be a great way to explore this valuable and limitless energy source. 
Homeschool P.E. Lessons
Take your homeschool P.E. lessons outside. Getting out and spending time in the fresh air is good for the entire family. Go for a walk, ride a bike, play kickball, or basketball for a simple way to get outside more and squeeze in some exercises. This is a great way to get a brain break from schoolwork and burn off some energy if your child is fidgety.
Gardening
Start a garden. Your homeschool can benefit from up close and personal earth science lessons. A small garden is a great place to teach kids where our food comes from. In the garden, your child can learn about the life cycle of plants and insects that live in the garden. The garden is a great place to learn about nature.
Nature Journal
Start a nature journal with your child. Nature journals are a great way to encourage your child to spend more time outside learning and to slow down and pay attention to the little details. Encourage your child to draw what they see in the garden, backyard, or even on a hike to help your child learn to pay attention to the little details.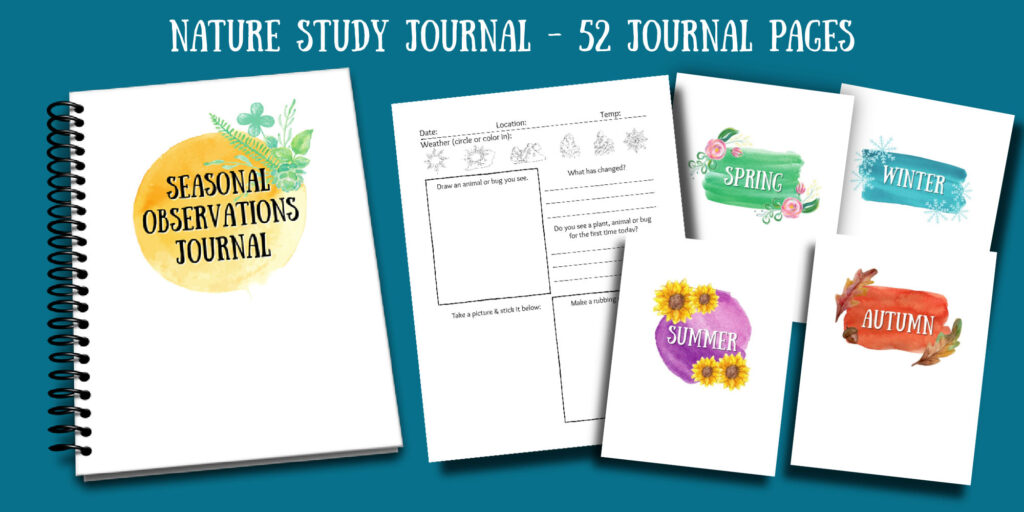 Use our Seasonal Observations Journal as your nature journal. It encourages kids to pay attention to the weather and changing seasons throughout the year.
Study the Weather
Set up a weather station. A weather station is a great way to get your child outside and learning. The weather is a fascinating subject that is studies best by experiencing it. Help your child build a weather station to track the actual weather in your area and then compare it to the predictions the local weather authority shared. This is a much better way to learn about the weather than using books or even videos.
Study the Seasons
For young children, time outside is the best way to help them learn and understand things like the seasons changing. As the seasons roll on, take your child outside to explore and even bring in a bit of nature to work with. Items your child finds, like flowers, leaves, pinecones, and things, can all be used to create and learn. Plan seasonal projects to take advantage of things like the leaves changing colors.
Map Work
Teach your child to read a map. Grab some maps and take the kids to explore. You could make a map of your neighborhood, use a map to explore at a nature center, use a map on a hike. There are so many ways to get outside and do map work!
Taking Homeschooling Outside
While it's easy to stay at the dining table inside, taking homeschooling outside is so beneficial for you and your kids. It can help kids be more engaged in lessons, meet sensory needs, and be the small change you need to prevent burnout from teaching too! There are so many ways to make taking homeschooling outside easier. Try out some of the tips above and see how it works for your family.